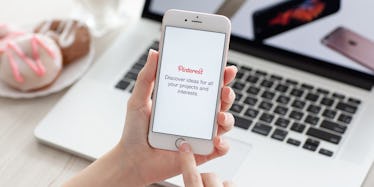 This New Feature On Pinterest Is Extremely Dangerous For Shopaholics
Shutterstock
Less than a month after Facebook unveiled its dangerous shopping feature, Pinterest did the same with a new update called Pinterest Shop.
Rolling out just in time for the holiday season, Pinterest's in-app shopping network will allow users to buy goods directly through the app, making your holiday shopping a hell of a lot easier.
Though Apple users have been able to purchase items through the app for some time now, this extensive update will, for the first time, be available to all smartphone users.
On the Pinterest Shop, buyable pins (of which there are over 60 million) are outfitted with a price tag and a purchase link while curated shops for brands such as Kate Spade and Neiman Marcus provide a new way to shop via the app.
The new shop will also reportedly feature a constantly updated top 10 list of the best-selling product categories, making staying on top of current trends easier than ever (and making saving money harder than ever).
Check out Pinterest's top 10 list for 2015 below, and head to the app to get started on your holiday shopping (it's never too early).
1. Leather leggings 2. Blanket scarves 3. Graphic Tees 4. Anoraks 5. Brown boots 6. Heritage backpacks 7. Novelty gifts 8. Wine-colored accessories 9. Cat-eye sunglasses 10. Delicate necklaces
Citations: Pinterest Just Became the World's Most Dangerous Online Shopping Platform (Teen Vogue)