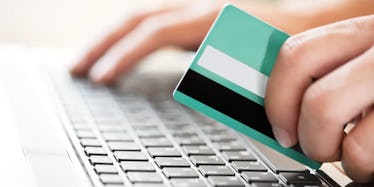 Facebook Is Adding A Very Dangerous Thing For The Shopaholics Out There
Shutterstock
I had a friend in college whose house always had some interesting, new impulse buy to enjoy.
My friend's inability to say no to even a mediocre sales pitch --whether it was for a NutriBullet, an Iron Gym or a ton of plastic Halloween decorations (which were later burned in the yard) -- provided fun for the whole house and its visitors.
Unfortunately for our bank accounts, we are all about to become that friend and we have Facebook to thank.
On Monday, the site expanded from social network to shopping network when it announced plans to add a mobile "shopping" tab to aid users in the immediate purchase of goods from the comfort of the already existing app.
Additionally, suckers for intriguing advertising have met their matches. The new FB format will encourage the purchase of clothing, electronics and other products by adding ubiquitous "buy" buttons to ads.
While the changes may seem assaulting to some, a company survey found almost half of Facebook's 1.5 billion users turn to the site to find products from their friends or in ads.
The changes benefit Facebook as well, considering 76 percent of the $3.8 billion total ads revenue comes from mobile advertising.
Until the site offers a "budgeting" tab, drawing users further into the Facebook Narnia that will one day act as our whole universe, easily influenced shoppers may want to plan ahead for temptation.
Citations: Compulsively checking Facebook will now include impulse shopping (Mashable)