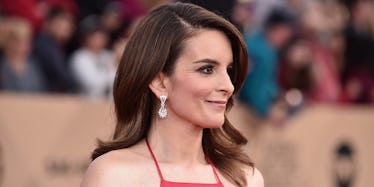 10 Self-Made Women Who Prove It's Never Too Late To Make It Big
Getty Images
No one has it all figured out in his or her 20s, but these ladies took it upon themselves to do their own thing their own way. It's paid off.
Your 20s is all about exploring and trying to navigate the adult world, while trying to figure out what the rest of your life is (possibly) going to look like.
While most of these ladies didn't start off doing what they would eventually gain fame and fortune for, they did find their passion and pursue it, despite the obstacles.
In the wake of a recession in which Gen-Y is more educated and yet still struggling to find jobs, these ladies prove that hard work, dedication and panache pay off.
Knowing what you want really is the most important thing.
1. Oprah Winfrey
She's a media queen, spiritual guru and one of the richest women in the world. But none of that came easily.
Before she became the beloved queen of daytime TV, she was bagging groceries to support herself while studying at Tennessee State University. Her first media gig didn't go so well (she was fired) but she was later recruited to co-host WJZ's local talk show, "People Are Talking" in 1978 at age 24.
She moved to Chicago in 1984 to host AM Chicago for WLS-TV, and it became so popular, they renamed it The Oprah Winfrey Show. The rest is history.
Girl boss inspiration: "Think like a queen. A queen is not afraid to fail. Failure is another stepping stone to greatness."
2. Ina Garten
Before she became a culinary goddess, she worked as a budget analyst for the White House (you read that correctly). She had no formal training, and spent most of her 20s working for the White House, while learning how to cook like the rest of us do: through cookbooks and Martha Stewart.
Her path toward becoming the Barefoot Contessa began when she purchased the shop of the same name when she was 30. She eventually wrote her own cookbook, and made her Food Network debut in 2002 at the age of 54, proving it's never too late.
Girl boss inspiration: "Fun is the most important. If you do stuff for money, it never works out."
3. Ellen DeGeneres
Stand-up comedy isn't exactly a lucrative career path unless you're lucky enough to develop a reputation and following. No female stand-up has done it as well as Ellen.
Her first major claim to fame was appearing on the Tonight Show with Johnny Carson when she was 28. But before that, she was  performing stand up in comedy clubs and coffee shops, and touring nationally. Her big break came when she starred in the sitcom "Ellen" at 36.
But when she came out on the show and in real life, the show was canceled in 1998. "The Ellen DeGeneres Show" debuted in 2003. More than 2,000 episodes and 13 seasons later, she's not going anywhere anytime soon.
Girl boss inspiration: "Stay true to yourself. Have your own opinion. Don't worry about what people say about you or think about you. Let the naysayers nay. They will eventually grow tired of naying."
4. Shonda Rimes
Before she owned Thursday nights, Rimes was a struggling scriptwriter in Hollywood, working day jobs to make ends meet. While employed as an office administrator during the day, she worked as a research director for the award-winning Hank Aaron documentary.
In her late 20s, she wrote the screenplays for "Introducing Dorothy Dandridge" and the sole Britney-Spears-starring film, "Crossroads." But her first real success didn't come until she was 35, with the debut of "Grey's Anatomy." Then, there was TGIT.
Girl boss inspiration: "Dreams are lovely. But they are just dreams. Fleeting. Ephemeral. Pretty. But dreams do not come true just because you dream them. It's hard work that makes things happen. It's hard work that creates change."
5. JK Rowling
She may be richer than the queen now, but Joanne Rowling was once a single mother whose office was a local café when she started working on one of the best-selling books of all time. She worked at Amnesty International and taught English in Portugal before moving back to the UK with her young daughter.
She was on welfare before she sold her first book (after 12 rejections) for $4,000. The "Harry Potter" series has sold more than 400 million copies, making her UK's best-selling living author.
Girl boss inspiration: "It is impossible to live without failing at something, unless you live so cautiously that you might as well not have lived at all. In which case, you fail by default."
6. Coco Chanel
Before the little black dress and Chanel Number 5, Chanel was learning how to sew with help from the nuns at the orphanage she grew up in. She was briefly a singer before she opened a hat shop, but it was a last-minute jersey dress that sparked the brand we know and love. She didn't just dress for success: She made the dress her success.
Girl boss inspiration: "My life didn't please me, so I created my life."
7. Kristen Wiig
She's starring in the all-female "Ghostbusters" film, but before she hit it big, she was an arts student who worked at a plastic surgery clinic, drawing women's post-surgical bodies. (Who says there aren't any jobs for art majors?)
After moving to LA from Arizona, she had a string of odd jobs (selling peaches, painting interiors at a floral design shop). Later, she joined the comedy troupe, The Groundlings, and eventually made her debut on "SNL" at 32.
Girl boss inspiration: "Don't become something just because someone else wants you to or because it's easy. You won't be happy. You have to do what you really, really, really, really want to do, even if it scares the sh*t out of you."
8. Jennifer Lopez
She started out as a Flygirl, and ended up as one of the most successful Latina artists in history. While the multi-hyphenate, 45-year-old star has seemingly found the fountain of youth and is magically able to fit 48 hours of work into 24-hour-days, her success did not come on a silver platter.
She was a back up dancer for Janet Jackson (you can see her in the "That's The Way Love Goes" video), and had roles in a few short-lived TV series. But it was the lead in "Selena" that paved her path to becoming JLo.
Girl boss inspiration: "I only do what my gut tells me to. I think it's smart to listen to other people's advice, but at the end of the day, you're the only one who can tell you what's right for you."
9. Tina Fey
Tina Fey was a self-described "drama geek" in college, but it took her years and a few odd jobs to break into comedy writing. She worked as child care registrar at the YMCA in Chicago, and starred in a bank commercial before joining the improv troupe, The Second City, in 1994. She was eventually hired as a writer for "SNL" at the age of 27, and she later made history by becoming the first female head writer for the show.
Girl boss inspiration: "When faced with sexism or ageism or lookism or even really aggressive Buddhism, ask yourself the following question: 'Is this person in between me and what I want to do?' If the answer is 'no,' ignore it and move on. Your energy is better used doing your work and outpacing people that way. Then, when you're in charge, don't hire the people who were jerky to you."
10. Amy Poehler
Amy and Tina go together like peanut butter and jelly. Just like Tina, Amy worked in improv comedy with The Second City. Before that, she was a member of her college's improv group.
She also joined ImprovOlympics and its spinoff, the Upright Citizens Brigade, when she was 25.  She made her "SNL" debut when she was 30, and became the first woman to get promoted from featured actor to full cast member midway through the first season. (She had that Leslie Knope drive all along.)
Girl boss inspiration: "You have to care about your work, but not about the result. You have to care about how good you are and how good you feel, but not about how good people think you are or how good people think you look. Treat your career like a bad boyfriend. It likes it when you don't depend on it. It will chase you if you act like other things (passion, friendship, family, longevity) are more important to you."