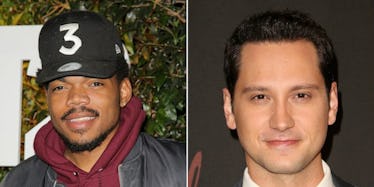 15 Sexy Celebs Who Get Even Hotter Once You Realize How Woke They Are
REX/Shutterstock
Sigh.
There's nothing like a woke celebrity man, who uses his platform to make the world a less horrible place—and who is also fine AF.
We quote their tweets, circulate their pictures in our girls' group chats and find ourselves routinely marveling over their significant lack of fuck boy qualities.
It's not that anyone should get cookies for being a decent human being, but it's also not like they aren't worthy either.
Check out this list of our favorite woke-hot guys.
1. Jesse Williams
This is a no-brainer. The way he stands up for black culture? The way he stood up against trolls for his wife? Swoon-worthy for sure.
2. Michael B. Jordan
That "B" stands for bae.
He's anti-All Lives Matter, addresses racist trolls like a pro and his body is crazy AF.
3. John Legend
Legend's style is always super fly, plus he tag teams with wife, Chrissy Teigen, to snatch Donald Trump's wig every chance he gets.
Apparently, he's also got some legendary sex too, so...go Chrissy!
4. Lakeith Stanfield
Did you not hear about the "Get Out" actor defending black women against his driver? Über hot.
5. Donald Glover
He practices calling out -isms on his hit FX show, "Atlanta" and in real life.
Paired with that boy-next-door face, his hotness is undisputed.
Chance the Mayor? Maybe. Chance the DILF? Definitely.
7. Andre Holland
Did we fall in love with his character "Kevin" in "Moonlight" or with actual Andre? He's the guy who's super bold about stressing the importance of the black LGBTQ+ experience, right? OK, both.
8. Mahershala Ali
Heart-eye emojis lit up Twitter when he stood up for his Muslim faith during his acceptance speech at the 2017 SAG Awards.
An electric smile, delicious skin and a man secure in his faith? Here for all of it.
Yep, we're obsessed with the outspoken "OITNB" co-star and "HTGAWM" front man!
10. Jidenna
Sigh. He's against police violence and has lyrics that combat slut-shaming. Plus, no one wears tailored suits quite like the "Classic Man."
11. Lin Manuel-Miranda
Broadway Bae deserves a standing ovation for the "Hamilton" play — and his gorgeous hair.
12. Channing Tatum
From his denouncement of police brutality to his impressive rhythm, we're into all of Magic Mike's, I mean Channing Tatum's, moves.
13. Stephan James
James has played in films like Selma and the Jesse Owens biopic, Race. Still, the wokeness its finest form with his current role as prosector, Preston Terry, on the new Shots Fired series—a show that focuses on police brutality and race relations. He had this to say about taking on job with such a serious subject during an interview with Flare:
"I feel like you've got to make conscious decisions to do important things and to tell important stories based on narratives that are happening in our day-to-day lives. For me, Shots was one of those instances.."
Yes Prosecutor Bae! (Spoiler alert: The acting is the best part of the show. Those abs are the second-best.)
14. Colin Kaepernick
Luxurious afro. Bended knee. Virtual middle finger up to racism, exploitation and police brutality? Oh, Colin. Yes, Colin.
15. Prince Harry
We actually call him Prince MF'ing Harry because he's just that damn fine.
Royal Bae loves kids and looks out for wounded and sick vets.
And then there's his bulging...bank account?
Stay woke fine fellas. Stay woke.