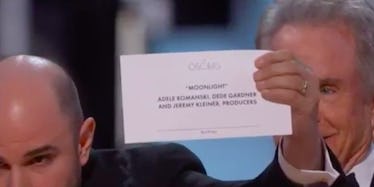 The Oscars Announced 'La La Land' As Best Picture, But It Was Really 'Moonlight'
ABC
WHAT JUST HAPPENED? I CAN'T EVEN BELIEVE WHAT I JUST WATCHED.
The 2017 Oscars had one of the craziest endings to an award show I've ever seen in my life. I'm still shaking because I can't get over what just went down.
At the end of the 89th Academy Awards, Warren Beatty and Faye Dunaway (the stars of "Bonnie and Clyde") presented the award for Best Picture.
The nominees included "Arrival," "Hacksaw Ridge," "Hidden Figures," "Lion," "Moonlight," "Fences," "Hell or High Water," "La La Land" and "Manchester by the Sea," with "La La Land" predicted by many to win most of the awards for the night.
While Beatty was presenting, he ended up reading the incorrect envelope and dubbed "La La Land" the winner of the night.
The only problem was "Moonlight" actually won.
Below, you can see one of the most awkward and uncomfortable moments in awards show history. I am literally cringing because it is so painful to watch.
Halfway through the acceptance speech for "La La Land," Warren Beatty explained the card he was given was actually Emma Stone's Best Actress Award.
He told the audience,
I opened the envelope and it said Emma Stone, 'La La Land.' That's why I took such a long look at Faye and at you. I wasn't trying to be funny.
The teleprompter was also incorrect, so the poor man completely messed up, even though it sounds like it wasn't totally his fault.
As Jimmy Kimmel put it, he basically pulled a Steve Harvey. Poor guy. The host joked,
Warren, what did you do?!
POOR WARREN!!!!!
Congratulations to the cast and crew of "Moonlight," by the way. The film was incredible and they are extremely deserving of the award.
Be sure to check out the full list of nominations here and Elite Daily's Awards Season page for all Oscars coverage.