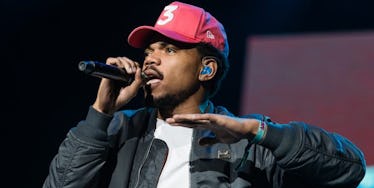 We Have 'No Problem' With This Rapper Running For Mayor Of Chicago
REX/Shutterstock
Is this the beginning of Chance The Mayor?
Fans of the 23-year-old rap prodigy have started a petition to try to get Chance The Rapper to run for mayor of Chicago.
The campaign is called #Chano4Mayor and it asks the Coloring Book artist to go head-to-head with Rahm Emanuel in 2019 when he tries to secure a third term as mayor of the city.
The open letter on the website reads,
Hey Chance, We think you'd be a great mayor. We love your music -- we've been following your career from the first 10 days. We also love the work you've done to give back to the city that raised you. You represent Chicago on the world stage, and you do us proud. We know you don't think of yourself as a politician, and we respect that. But this election is an opportunity for Chicago that we don't want to miss.
The letter goes on to say,
Let's say you decide not to run. That's cool too, but we hope you will still get involved. Will you speak with candidates for mayor about CPS, like you did with Governor Rauner? Will you endorse a candidate who will fight for the South and West sides? Will you help Chicago's youth participate in Chicago elections, and encourage your fans to vote? You don't have to decide right now. 2019 is kind of a long way away. But the people are screaming for you, and Chicago is hungry for change. Think about it... Sincerely, The Chano4Mayor2k19 Team
During Emanuel's tenure in office he has reportedly shut down six of Chicago's 12 mental health clinics, closed 50 public schools and the Department of Justice found the Chicago Police Department guilty of a pattern of civil rights violations.
Chance has become an advocate for trying to fix the problems destroying the city of Chicago and its residents. He recently persuaded the Chicago Bulls to donate $1 million to Chicago's public school system and frequently gives back to the community himself.
Billboard reports there may be a little inner-family D~R~A~M~A as Chance's dad worked as Emanuel's chief of staff.
If Chance decides to actually run he already has a major celebrity endorsement thanks to Drake.
Sooooooo, how do we get Chance The Mayor to become an actual thing?
Citations: Chance The Rapper for Chicago Mayor? Fans Start Campaign (Billboard)