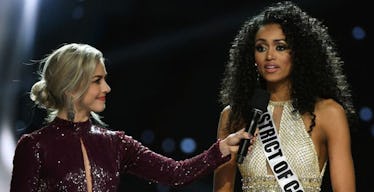 Why Miss USA's Answers On Feminism And Health Care Matter After The Competition
Getty Images
Miss USA District of Columbia, Kára McCullough, is a black woman, a nuclear scientist and an advocate for science education, which makes her another fantastic show of diversity in the line up of title winners.
Last year, Deshauna Barber took the crown. She was the first black female soldier (and first soldier at all!) to do so.
Now that 25-year-old McCullough has won, folks are celebrating and happy that Miss USA has kept up this new, shall I say, tradition.
But the new Miss USA has already been heavily criticized for some pretty dated answers she gave about health care and feminism.
When McCullough was asked about health care, this was her answer:
"I'm definitely going to say it's a privilege. As a government employee, I'm granted health care. And I see firsthand that for one to have health care, you need to have jobs, so therefore we need to continue to cultivate this environment that we're given the opportunities to have health care as well as jobs to all the American citizens worldwide."
At a time when the conversation about affordable health care has been most heightened, our new Miss USA has opted to take a stance on the topic that suggests only people with jobs should have such a "privilege."
Though McCullough likely did not intend it, her logic reeks of classism. Seeing health care as a privilege is a statement that carries some heavy implications. America is the only developed nation in the world that does not see health care as a right all humans should have access to.
Relying on the stability of a job for health care has put many Americans in jeopardy, and creates dangerous rhetoric that suggests all Americans have access to health care on an even playing field. Due to systematic racism and classism, that isn't always the case.
With McCullough's thinking, there would be way more people without access to affordable health care. People out of work due to disabilities, laid off from their jobs or taking off to care for sick or pregnant family members would just be SOL.
That's just terrible.
McCullough also gave a problematic answer about feminism.
She was asked,
"What do you consider feminism to be and do you consider yourself a feminist?"
Her response was,
As a woman scientist in the government, I'd like to transpose the word feminism to equalism. I try not to consider myself this diehard, like, I don't really care about men.
Baby girl...
Clearly, McCullough was somewhere pageant prepping and missed the age-old understanding that feminism is not and has never been about hating men or having superiority over men.
Feminism, in its very definition, is about the "equality of the sexes," to quote Webster and Chimamanda Adichie.
Twitter quickly took McCullough to task.
There was another contestant whose answer felt...ehh...more developed.
The competition's runner-up, 20-year-old Miss New Jersey USA Chhavi Verg, answered her question about feminism with this statement:
She shared,
Feminism is striving for equality and I do consider myself a feminist. I think it's a misconception when people believe that feminism is women being better than men. But it's really not. It's a fight for equality. And we need to realize that if we want a stable society, a better future for every single individual, we need to be equal. And that's why I advocate for education for women. Women are still held back in places in the world. They still don't have that right to their independence, that right to their equality — all because of education. And, once we do take that step, I believe that an equal world will be a better world.
The crowd went wild:
These beauty pageant answers matter because of what the winners do afterward.
Once the Miss USA competition concludes, the title winner holds duties for an entire year, until the next winner is announced and she releases her crown.
Jackie Shahinian, public relations director of the the Miss Universe Organization told Bustle,
Being Miss USA is a job and [the winner] becomes an employee of The Miss Universe Organization.
This means that for 365 days, the Miss USA winner represents the Miss Universe Organization in many different arenas. She is obligated to perform many duties including plenty of public appearances and lots of outreach.
The Miss USA website says the winner is supposed to be "an advocate for humanitarian issues and be a voice to affect positive change in the world."
This means Miss USA is going to have her voice heard by a LOT of women and girls. What she says and how she says it will have a huge influence, so when she speaks, it's kind of best that what she says isn't problematic AF.
Let's all just hope that the 2017 Miss USA can spread more progressive ideology to the world going forward.