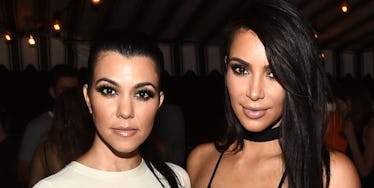 The Kardashian Crew Joins The Fight Against Trump With A Visit To Planned Parenthood
REX/Shutterstock
The Kardashian clan has historically been pretty mum about their political beliefs—with the exception of their now ex-communicated family member, Caitlyn Jenner, a vocal Republican.
Oh, and the failed attempt at addressing police violence that Kendall Jenner and Pepsi promoted in the infamous ad.
On Thursday, it appeared that America's reality TV royalty decided to make their voices heard and their opinions clear with a visit to Planned Parenthood.
Kim, Khloé and Kourtney Kardashian were spotted holding hands as they entered and then exited a LA facility, as reported by the HuffPost.
The Kardashians were there to talk to the organization's leaders about how the Trump administration is threatening their efforts, and what they can do to fight for the cause.
In April, Trump signed a bill allowing states to choose whether or not they want to still grant funds to the nonprofit and other organizations that offer abortions as part of their sexual health advocacy.
Unfortunately, the defunding of Planned Parenthood also means many underprivileged people will lose their access to services like birth control and cervical cancer screenings.
Planned Parenthood has been working to raise as much money as possible since January. Prior to this Kardashian visit, it had already racked up support from other celebrities— like Ali Larter, Scarlett Johanssen and Jennifer Lawrence—are just a few famous ladies who opened up used the nonprofit's services, reports People.
Though the Kardashian clan has never come forward about using Planned Parenthood, they can obviously relate to sexual health needs.
Kourtney opened up about her use of birth control pills in 2009 on Ryan Seacrest's KIIS-FM radio show.
And who can forget the awkward episode of Keeping Up With The Kardashians, when Kris Jenner found out about Kylie taking birth control, then asked, "Do you take it for your skin?"
The Kardashians are proud of their visit and ready to help.
As always, the cameras were rolling during their Planned Parenthood trip— so we can expect a sentimental episode about their meeting on the next season of KUWTK.