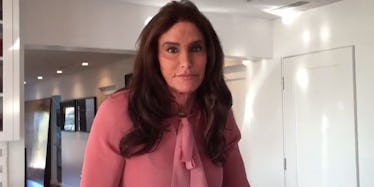 Caitlyn Jenner Bashes Trump For Lifting LGBTQ Protections: 'This Is A Disaster'
Twitter
Great job, Mr. President. Due to your recent efforts to rescind the past guidance in place to protect the LGBTQ+ community, you have now pissed off Caitlyn Jenner.
The 67-year-old star took to her Twitter account to post a video addressed to President Donald Trump on Thursday evening.
The tweet simply reads,
Well @realDonaldTrump, from one Republican to another, this is a disaster. You made a promise to protect the LGBTQ community. Call me.
She's right. He did make them a promise, and he shattered it completely.
In the minute-long video accompanying the tweet, Caitlyn Jenner first began her statement, saying,
I have a message for the trans kids of America: You're winning. I know it doesn't feel like it today or every day, but you're winning. Very soon, we will win full freedom nationwide and it's going to be with bipartisan support.
Jenner then instructs viewers to visit the National Center for Transgender Equality in an effort to amplify the voice of the transgender community in Washington DC.
The retired Olympic gold medal-winning decathlete didn't stop there. She continued her statement by calling out the "bullies" that continue to taunt and disrupt peace in the LGBTQ+ community.
You're sick. And because you're weak, you pick on kids, you pick on women or anyone else you think is vulnerable. Apparently, even becoming the Attorney General isn't enough to cure some people of their insecurities.
Jenner is of course referring to the newly appointed Attorney General Jeff Sessions, who recently halted guidance originally put in place by the Obama administration to serve the LGBTQ+ community.
One of the key focuses of the established guidance allowed transgender people to utilize restrooms they associate their gender with. Sessions halted the guidance citing legal "confusion."
In the video, Caitlyn Jenner shifts her focus from the "bullies" and AG Jeff Sessions directly to President Trump, concluding,
Finally, I have a message for President Trump from, well, one Republican to another. This is a disaster. And you can still fix it. You made a promise to protect the LGBTQ community. Call me.
*Mic drop*
Here's Caitlyn Jenner's video calling out President Trump for lifting LGBTQ+ protections.
Mr. Trump, the ball is in your court. Ms. Caitlyn Jenner is awaiting your call...
Citations: Caitlyn Jenner Lashes Out At Trump 'This Is A Disaster' (TMZ)