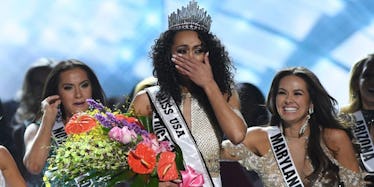 People Are Pissed At Miss USA Winner For The Answer She Gave About Feminism
Getty Images
On Sunday night, Miss District of Columbia Kára McCullough was crowned the winner of Miss USA 2017.
McCullough, 25, graduated from South Carolina State University and now works as a chemist at the US Nuclear Regulatory Commission.
A black female scientist who advocates for children's education programs, McCullough definitely seems like an incredible choice for Miss USA.
However -- as has become a theme with pretty much every beauty pageant in recent memory -- it was McCullough's answers to the interview questions that had the internet talking last night.
During the last round of competition, the three remaining finalists were asked the same question: "What do you consider feminism to be and do you consider yourself a feminist?"
McCullough answered,
So as a woman scientist in the government, I'd like to transpose the word feminism to equalism. I don't really want to consider myself, I try not to consider myself, like, this diehard, 'I don't really care about men.' But one thing I'm going to say is, though, women we are just as equal as men when it comes to opportunity in the workplace. And I say firsthand I have witnessed the impact that women have in leadership in the medical scientists as well as just in the office environment. So as Miss USA I would hope to promote that type of leadership responsibility globally to so many women worldwide.
Not surprisingly, people weren't happy with how the new Miss USA defined feminism in her answer. Not only did she say she doesn't consider herself a feminist, she basically said feminism is about being anti-men.
Twitter was not happy with that answer.
It wasn't just her response to the feminism question that drew criticism, either. She also received backlash for saying healthcare was a privilege, not a right.
In fact, many people thought Miss New Jersey's answers made her more worthy of the crown.
I should note I can't even imagine what would come out of my mouth under that kind of pressure, standing on stage with a microphone in my face and only a few seconds to come up with a well-articulated response.
Still, this question in today's political climate seems fairly run-of-the-mill and one can imagine she had to practice responses to similarly aligned questions.
Perhaps we could all use a little refresher on what feminism actually means (hint: it's not about being anti-men).
Regardless of how you feel about her answers, McCullough took home quite the prize package and is headed off to NYC to begin her reign. She will go on to compete at Miss Universe in 2018.
Citations: Miss USA Is Already Getting Backlash for Calling Herself an "Equalist" Instead of a "Feminist" (Cosmopolitan)