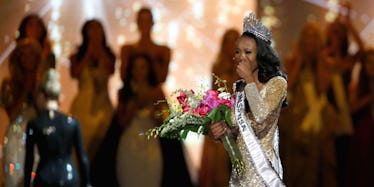 The Woman Crowned Miss USA 2016 Just Made History For An Amazing Reason
REUTERS
Deshauna Barber was crowned Miss USA 2016 on Sunday night in Last Vegas.
Barber was Miss District of Columbia, one of 52 contestants competing for the Miss USA 2016 crown.
In winning, Barber became the first military service member to win Miss USA. Barber is a 26-year-old Army Reserve officer who currently works full time as an IT Analyst for the US Department of Commerce. In the Army, she is a logistics commander for the 988th Quartermaster Detachment Unit at Fort Meade, Maryland.
During the contest on Sunday, Barber was asked the following:
The Pentagon recently made the decision to open up all combat jobs to women. Now, some have questioned whether this has put political correctness over our military's ability to perform at our highest level. What are your thoughts?
Here's how Barber responded:
As a woman in the United States army, I think it was an amazing job by our government to allow women to integrate into every branch of the military. We are just a tough as men. As a commander of my unit, I am powerful, I am dedicated and it is important that we recognize that gender doesn't limit us in the United States Army.
After winning, the Miss USA Twitter account posted a very cool video of Barber changing from Army officer to beauty queen.
Barber's win is a great reminder there are no limits to what a person can be. Barber is a strong service member who can also put on a gown and win a pageant. Those things are not mutually exclusive.
Barber also proved the point with her excellent answer that women can be powerful and reach the same positions as men in the military, which is historically seen as a strictly masculine profession.
She represents that humans are boundless and stereotypes are frequently false. In that, she embodies the ultimate classic American dream that you can be whatever you want to be here.
This makes Barber an ideal winner of the Miss USA crown.