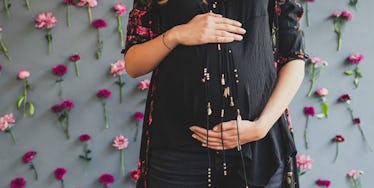 Insane Pregnancy Photo Shoots That Are Even More Extra Than Beyoncé's
ICYMI, Beyonce is pregnant with twins. So, naturally, she decided to slap on a veil and pose in front of a floral wreath dressed in panties and a bra to announce her happy news.
Also, naturally, she somehow made this look chic and sexy and cool. And it's now the most-liked Instagram of all time. CLASSIC BEYONCÉ.
Then there was this pic that she posted on her website this morning.
And how could I forget this one!
Bey is an original. Everything she does is instantly classic. But she's not the first person to do an over-the-top pregnancy photo shoot. People have been doing weird pregnancy photo shoots for YEARS.
From the random woman who dressed up as a pregnant mermaid and hopped in a pool, to the time Courtney Love took the creepiest photo of all time, WEIRD PREGNANCY PICS ARE ALL OVER THE PLACE, PEOPLE.
And I've got the weirdest ones for you here:
This woman hopped in the pool dressed like a mermaid. Enough said.
There was that time Kim K took a pregnant, naked selfie.
And the time Demi Moore posed very naked and very pregnant on the cover of Vanity Fair.
This woman did a ~sultry~ beach photo shoot with matching red skirt, bra and hair. Also very mermaid-like.
Remember when Courtney Love took the scariest pregnancy photo of all time?
Why paint on a canvas when you have a big, old BELLY to display your art on?!
Victoria's Secret Angel Doutzen Kroes back at it again with the hot, nude pregnant celeb pics.
What is she resting on... an upside-down boat?
Time for more arts and crafts on a pregnant lady's belly!
Besties who take pregnancy pics together stay together, amiright?!
Just a casual, low-budget pic. I bet her mom snapped these on a flip phone. (She didn't.)
Just your average, everyday, sexy boxing mom pic with impeccable lighting!
That moment when your Olympic swimmer baby daddy kisses your baby bump under water in an olympic-sized pool as your pregnancy announcement pic. SAME.
You KNOW this kid will be begging mom and dad to take this creepy AF pic down from the mantle when their friends come over.
This pregnancy's gonna be LIT.
She obviously had to be the last one, I mean... how could I top the pregnant woman dressed head-to-toe in marijuana-themed attire?