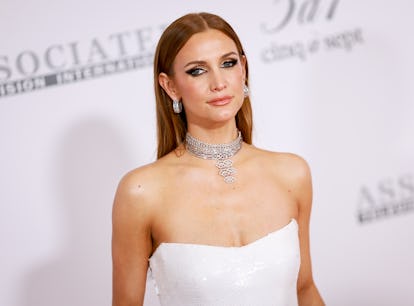 Ashlee Simpson On Her Fave Y2K Trends & Raiding Jessica's Closet
"When I was younger, I would tell my mom I only wanted to shop in the Tommy Hilfiger boys area."
These days, Ashlee Simpson couldn't look more different from the choppy black layers and skater-esque 'fits of her 2004 "Pieces of Me" era. Gesturing to the sequined mock-neck mini dress with an orange feather trim and fringe chandelier earrings she's wearing at the JBL Authentics speaker launch party in Las Vegas on Sept. 21, the Autobiography singer calls the look "disco cowgirl" — with a little bit of punk princess, of course.
"I went for it tonight with the feathers, sparkles, and disco aesthetic," the 39-year-old tells Elite Daily. "When I'm in Vegas, I just want to go all out." She was once one of the biggest Y2K it girls with her own reality show and regular appearances on MTV's TRL, but Simpson's life looks a little bit different these days. Eleven years after stepping away from the music scene, she recently released her own '70s California boho clothing collab with Smash + Tess, fittingly called Pieces of Me.
As her style and beauty go-tos have shifted over the years, she says it's actually brought her sartorially closer together to big sister Jessica Simpson, who had a distinct girl-next-door aesthetic during the 2000s.
"I feel like we used to be so different, but my sister and I collaborate so, so much on beauty ideas now," she says of the "I Wanna Love You" singer. "My favorite thing is for us to play makeup together. I'm always like, 'What are you using for your skin?'" Some of Jessica's recommendations include the skin care brand Biologique Recherche and Chanel eyeliner pens, while Simpson says she turned her sister on to her favorite Pat McGrath highlighter.
Ashlee also admits that like any younger sister, she loves raiding Jessica's closet. "She really goes for it, so [her closet] is always so fun," she says. She might not be sporting tank tops over T-shirts and capri cargo pants on the red carpet anymore, but she's very much here for the resurgence of noughties-era style.
"When I was younger, I would tell my mom I only wanted to shop in the Tommy Hilfiger boys area," she says. "I love the baggy jeans, the crop tops, all that [Y2K] stuff. Yeah, there are some mistakes, but that's what's fun about it."
The Y2K comeback has also given her the opportunity to connect with her kids about fashion, especially her daughter Jagger, 8, whom she shares with husband Evan Ross.
"It's kind of great looking back at my outfits from back in the day," Simpson says. "My daughter loves Olivia Rodrigo, and when she's like 'I like her ballet outfit,' I'm like, 'Jagger, mom used to wear tutus all the time... but with wrestling boots." She laughs, adding, "So there was a moment between us right there."
While it hasn't gotten a second life yet, Simpson is also holding out for the return of matte-pigmented blue eyeshadow, another '00s staple. "It's a total vibe," she says. "I think it's time for that one to make a comeback."
But that's not the only revival from that time period on her radar. Simpson teases that she's "very ready" to get back into the studio. But for now, she's "got Adele [on repeat]."