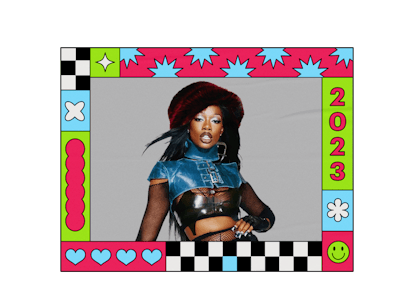 Now That Aliyah Bah's Style Is TikTok Famous, She Can Never Go Back
You'll never guess which Y2K fashion icon is in her DMs.
Lindsay Hattrick/Elite Daily; Edwig Henson
If you combined Harajuku style with Y2K fashion, you'd get Aliyahcore — the aesthetic made famous by fashion influencer Aliyah Bah (aka @aliyahsinterlude). Along with creating content for her 2.6 million TikTok followers, she's also a model and stylist, who's worked with brands like Bratz and MAC Cosmetics as well as celebs like Lizzo. It was after styling the "Truth Hurts" singer that Bah started to notice more opportunities coming her way. "That's when people realized, 'Oh, OK. So, she's definitely making her steps,'" she tells Elite Daily.
While it's taken some time for brands to catch on to Bah's influence, the 20-year-old has been "that girl" on TikTok for a while. In fact, her #Aliyahcore style, which typically consists of pastel miniskirts, moon boots, and fuzzy ear muffs, has amassed over 260 million views on the platform and even caught the eyes of Y2K fashion icons ("The other day, Paris Hilton messaged me on TikTok," she says). The moment she knew she made it as a content creator — the first time she saw someone share an Aliyahcore TikTok — Bah's first thought was, "What's next? How can I make this better." Such is the life of an influencer. You always have to be thinking of your next steps.
As we chat over Zoom one afternoon in July, Bah is in the process of re-styling the Barbie outfit she wore to the movie the day before for a TikTok video — a Sanrio corset, pink miniskirt, light pink Demonias, and her signature earmuffs — and she's more than ready to discuss those next steps. The newly New York-based creator, originally from Atlanta, shares she'd love to both model and style more A-list celebs. "Honestly, it's fashion over everything," she says, "I want to be a stylist, but I also just want to be such a well-rounded person that you expect to see me in every type of thing."
Now that Bah has worked with some big names, she has a list of brands she thinks could benefit from her style next. "I want to collab with Blumarine, Jordan, and more high fashion companies like Miu Miu and Heaven by Marc Jacobs." Seeing Aliyahcore walking down the runway at Fashion Week is something that Bah is currently manifesting, along with a Times Square billboard by the end of the year and hosting the Met Gala red carpet one day.
While it might seem like a stretch for anyone else sharing those big dreams, Bah's enthusiasm for the future is the only proof you need to know how determined she is. When talking about the campiness of Aliyahcore, she says that her style is going to be what "starts trends" in 2024 rather than just following them. "[Aliyahcore] is today, tomorrow, yesterday, and forever. Period."
As much influence as she's had on fashion TikTok so far in 2023, it hasn't always been an easy road. In April, Bah shared that as a POC creator, brands don't always reach out to her, even with her millions of loyal followers. It's why she's created her own opportunities, like when she released her own line of furry moon boots. Gaining attention on the outside is one thing, but Bah feels there needs to be more POC people working on the inside as well for some real change. "When there's only white people at the place where they're reaching out, it's like, of course the content you watch is going to be similar."
Now that doors have started to open up for her, Bah wants to help other POC creators. "I never see dark skin, Black women within high fashion trends, so I want to be first to do that." While being an influencer never crossed her mind as a kid, she says her younger self wouldn't be surprised at where she is now. And all it took was a pandemic for Bah to find her life's calling.
"During quarantine, my fear of being perceived kind of went away," she says. After experiencing what she describes as a "quarter-life crisis at 17," Bah realized that people are going to judge regardless, so she might as well do what she wants. That self-love mentality comes through in her TikToks, where she often shares faux FaceTime calls with her followers whom she calls her "frens" and gasses them up by saying things like "If you want something, it's already yours."
"It's all projection," she says. "When people project negative energy into the world, it kind of just makes everyone feel negative as well. But if you do the opposite, then you can make people feel positive."
Whenever she gets hate on Twitter for an outfit she's worn, Bah flips the narrative. "I actually become more relevant," she says. The negativity may be the toughest part of her job, but she says it comes with the territory of being a content creator. Another downside to being TikTok famous — especially when you're known for creating your own style aesthetic — is always having to be camera-ready when you leave the house, she jokes. "I wish I had known that once you become famous, it's like you can never go back."