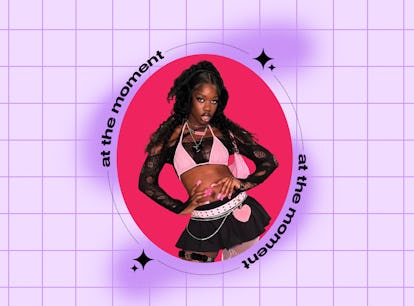 Aliyah Bah Didn't Choose The Influencer Life — But She Was Made For It
"Being different always pays off in the end."
Elite Daily; Anyer Akot
In Elite Daily's series At The Moment, celebs and TikTok stars dish on their current projects, pop culture hot takes, and everything taking over their group chats. Below, influencer Aliyah Bah gets candid about her rise on TikTok, her signature Aliyahcore style, and whether she thinks celebrities will follow the theme at the 2023 Met Gala.
When Aliyah Bah envisioned her future, becoming a sensation on TikTok didn't come to mind. However, the 19-year-old always fawned over one aspiration: to dominate the fashion scene. "I always wanted to create a clothing brand. Think Versace or Louis Vuitton — like, a very high-fashion brand. That dream's never left me," she tells Elite Daily over Zoom. "I never thought I would be an influencer. This really came out of nowhere, honestly."
Bah's optimism is valid, but her coy smile that brandished her crystal tooth gems (yes, those micro-accents are having a moment) tells a different story. As she speaks about her unexpected TikTok fame, a knowing twinkle appears in her eyes. It's almost as if she secretly knew she would influence others one day, and that confidence is what makes her content so infectious.
Known as Aliyah's Interlude on the platform, Bah rose to Internet superstardom in 2020 with her GRWM videos. At times, these videos — which are filled with motivational speeches and random hot takes — feel like an intimate FaceTime call with a friend rather than a fashionista gushing over her latest purchases.
Beginning with her lively "What's up?" chant, Bah shows the process of styling herself in her self-proclaimed "Aliyahcore." The term describes her style, which is a blend of Harajuku kawaii, Y2K streetwear, and alt-girl grunginess. Starting with a neutral slate, Bah engulfs her frame in layers of ripped fishnets, mini-skirts, or low-rising jeans that are accented with numerous belts, thigh garters, fur accessories, and moon boots galore. She's every maximalist's dream.
By the end of 2022, she hit 2 million followers — or as she defines it: "2 million people who are in love with me." Her follower count and popularity continue to grow, and Bah's not shy about giving herself the flowers she's earned.
"I worked really hard for everything that I've got. So when I get accomplishments? In a way, it feels like I deserve them," she says, lightheartedly laughing. "Sometimes, the hype can get a bit overwhelming, and it still takes me a while to get used to it. But then again, I truly love that I can influence so many people to be creatively free."
Bah steadily built on her digital rise by taking Aliyahcore on a TikTok tour, styling other it girl creators like Fannita Leggett, Ve'ondre Mitchell, Challan Trishann, and Baby Storme — who is something of an alt-girl legend herself. This wave eventually seeped into the music world, where celebrities such as Lizzo and rappers CupcakKe and Rico Nasty slipped on their finest Aliyahcore essentials to recreate the look.
When you're online, a lot of people think they know you personally. Or they have this parasocial relationship with you, but it's like, this isn't real life at all.
These moments eventually opened the door to one of her biggest opportunities to date: fashion week. This past February, Bah walked her first runway show for Mowalola — a brand known for creating boundary-breaking pieces — during London Fashion Week. She also attended Milan and New York fashion weeks, where she sat front row for Tia Adeola's lush collection in her signature core. To Bah, this is when she knew her influence hit a new rank.
"I'm still mentally living at fashion week," she says with a wide smile. "Being different always pays off in the end because if I were to just do an everyday style, I probably wouldn't have been there. It's beautiful that the fashion industry is allowing more diversity."
Despite her recent wins, Bah has seen a fair share of muddy lows. A wave of backlash came in November 2022, when Bah posted a photo of herself in a pink bikini and matching moon boots while vacationing in Jamaica. Her look eventually made rounds on Twitter, where she faced backlash for wearing an "unconventional" 'fit while on the beach.
This moment spurred into a dayslong drama where users alleged Bah was taking ownership of already popular and staple trends — even though she's labeled Aliyahcore as a mixture of influences and not her own creation.
"You can do anything and people will take it out of context. To me, you get judged 10 times harder than anyone else," Bah says of the moon boots debacle. "When you're online, a lot of people think they know you personally. Or they have this parasocial relationship with you, but it's like, this isn't real life at all."
Even with these drawbacks, Bah has no intention of retiring her whimsical style. She's currently gearing up to release her own line of oversized moon boots in May, which feels like her version of a last laugh about her wearing them on the beach.
Below, Bah shares her favorite music artists, the TikTok sounds she's obsessed with, and her first celebrity crush.
This section has been edited and condensed for clarity.
If you could turn your name into an actual interlude, what would it sound like?
It would either be a pop or rap banger. Something fun, cute, and for the girls.
What's a TikTok sound you're currently obsessed with?
That one sound by Fresh x Reckless that goes like "My blicky up on the dresser." That's my favorite TikTok song right now.
If you could only choose one item to keep forever: Hello Kitty plushies or fuzzy earmuffs?
Oh, my God. It would have to be earmuffs.
Who was your first celebrity crush?
Justin Bieber. I was such a stan of him.
What's your comfort TV show?
Bob's Burgers. I love that show so much.
Any unpopular takes about a character on Bob's Burgers?
Honestly, Gene is the best character. He adds so much spice and fun to the show, and he's just so underappreciated at all times.
If you could only choose one Frank Ocean album to listen to: Channel Orange or Blonde?
Oh, Blonde for sure.
A song you're currently obsessed with?
I have two: "Drive Me Crazy!" by Lil Yachty and "Pop!" by Adanna. Adanna ate with that song.
Who's an artist you feel is underrated?
Oh, my gosh. Bree Runway. She deserves so many more flowers. I know she's opening for Lizzo's tour right now, and that's a really big deal. But she deserves to headline her own tour.
What makes someone an it girl?
Oh, wow. Someone who's authentically themselves and doesn't care about being perceived a certain way because they know who they are.
If you could have dinner with any person, dead or alive, who would it be and why?
Issa Rae. Issa's such an icon in every way, shape, or form. She creates opportunities for herself and for her community, and that's something I really want to do.
Best piece of advice you've ever gotten?
Stop looking for instant gratification in your journey of reaching your goals, or you'll never achieve what you truly want.
Favorite place you've visited?
Sierra Leone, West Africa. That's my favorite place ever. I'm Sierra Leonean, so all my family lives out there.
The campiest fashion item you own?
Probably my moon boots. I wear them as an everyday thing, so I feel like that's pretty camp.
What celebrity would you dress in Aliyahcore for the 2023 Met Gala?
Doja Cat, for sure. She could definitely execute that because she's so camp herself. Or even Zendaya, 'cause I know she loves to get into the weird stuff.
Do you think celebrities will follow this year's Met Gala theme?
Girl, probably not. [Laughs] That's what we always hope for, but that never really happens.