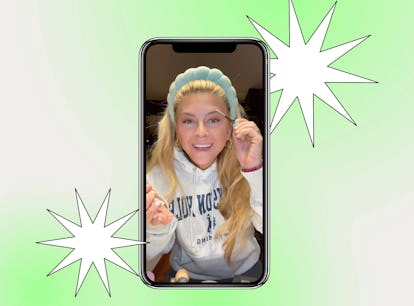 Here's Where TikTok Creators Are Getting The Viral Bubble Headband
These GRWM staples start at just $3.
We may receive a portion of sales if you purchase a product through a link in this article.
The viral bubble headband has quickly become a supporting character in almost every GRWM TikTok. The bubble headband TikTok trend has become so popular that other creators have started mocking the headband's oversized shape with their own parody videos. But where are creators getting their bubble headbands online? Xandra (@xandrapohl) is a huge fan of the Versed bubble headband, sporting a mint green one in a majority of her TikTok videos. However, that particular $15 Good Hair Day headband isn't currently in stock, making it a little harder to get in on the trend.
Versed's viral bubble headbands aren't currently available on the site for purchase, and it's a bit of a hassle to score one. In order to get your hands on the same skincare headband as Xandra, you need to sign up for their Versed newsletter to know when it becomes available, or join their rewards program to rack up points with each purchase. Once you have 200 rewards points, you can order a black Good Hair Day headband for yourself.
Let's face it, that seems like a lot of work when there are plenty of bubble headband dupes out there you can add to cart today. These viral makeup headbands may not be the exact brand Xandra uses, but they look just the same, come in a variety of cute colors, and won't cost you more than a Starbucks latte or two.