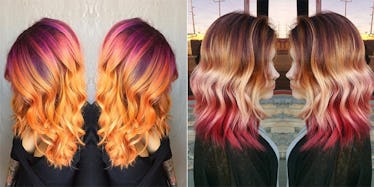 Women Are Dyeing Their Hair The Colors Of Sunsets And It Looks Gorgeous (Photos)
If you've been lusting after the latest beauty crazes, you probably have a long list of colorful looks on your hairstyle bucket list.
But then again, who can blame you?
There's certainly no shortage of hair inspiration out there -- from cosmic coifs and silver granny strands to the latest HyperColor hairstyles.
Now you can add one more look to that growing list because we just came across a new trendsetting style simply to "dye" for.
Take a gander at the Internet's latest obsession: sunset hair.
Sunset hair basically transforms the gorgeous pink, red, orange and purple colors of the gloaming sky into one seriously spectacular hairstyle. There are all sorts of ways you can deck your strands out in these fiery shades, so the dusk-dyed possibilities are pretty much endless.
Take a look at the pictures below to see this eye-catching hairstyle.
Move over, galaxy hair...
...because there's a hot new look on the horizon.
Lots of girls are setting trends on social media...
...by dyeing their strands with all sorts of sunset shades.
That's right. Sunset hair is now a real thing...
...and it looks pretty f*cking cool.
Sunset hair lets you embrace the dazzling shades of dusk...
...by dyeing your hair in all sorts of pink, red, orange and purple hues.
You can't go wrong with a magnificent magenta mane...
Luscious purple locks...
A burnt orange braid...
Some straight-fire strands...
...or some strands capturing every color of the evening sky.
You're pretty much guaranteed to have people staring off into your mesmerizing mane...
...no matter what combination of fiery colors you choose.
Citations: All Hail the Sunset Hair Trend (Cosmopolitan)