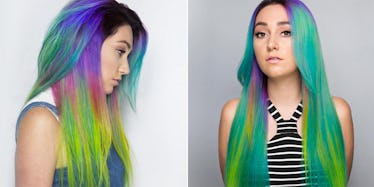 The 'HyperColor' Hair Trend Will Make Your Locks Brighter Than A Rainbow (Photos)
There's no limit to what you can do with a little hair dye these days.
Not too long ago, we showed you a bunch of epic space-age hairstyles.
If you thought those looks were out of this world, you'll be glad to know we've just spotted a new trend on the horizon.
"HyperColor" hair is latest eye-catching beauty craze bombarding our Instagram feeds, and this stunning style will make your hair shine brighter than a star.
Now, you're probably wondering, what hell is HyperColor hair? Well, the answer is quite simple: It's basically rainbow hair on crack.
Plus, this hairstyle is pretty much guaranteed to be a conversation starter at the Thanksgiving dinner table.
Take a look at the pictures below to see this badass hair trend.
If you're looking to add some excitement to you hairstyle...
...look no further.
We just came across a new hair trend...
...that is guaranteed to make your hair more colorful than the rainbow.
Behold, HyperColor hair.
HyperColor hair blends a variety of highly pigmented shades...
To create a bold, multidimensional effect...
...that looks absolutely incredible!
Stylist Rickey Zito teamed up with hair care and color brand PRAVANA to create this colorful style...
...and now lots of ladies are ditching the dull 'dos for some luminous locks.
If you're looking to hype up your hair, PRAVANA told Elite Daily exactly how it's done.
"The colors radiate from the dark base and brighten as they expand away from the root alternating between color combinations for optimum movement."
Check out the video for a closer look at how you can achieve HyperColor hair.