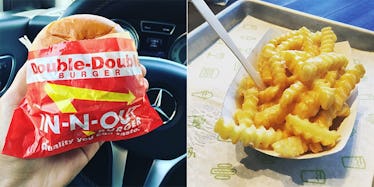 Shake Shack Vs In-N-Out: Which Burger Joint Truly Reigns Supreme?
Rob Anthony
If you've been in Los Angeles for at least the last two months, you've heard about the first Shake Shack opening in Southern California.
On March 15, the New York-based fast-casual burger chain brought its deliciousness over to the wild wild West Coast for the very first time. Shake Shack settled in what is known as In-N-Out territory, opening its new location in West Hollywood.
Being someone who just moved from the Big Apple to the City of Angels, I couldn't be more pumped to have so many burger choices.
If you know anything about Los Angeles, you know In-N-Out is the cream of the crop when it comes to burger joints. In New York, when you're game for a burger, it's Shake Shack or nothing.
Each of these burger joints have their respective diehard fans. Each offers some of the most delicious milkshakes you've ever tasted in your entire life. Each chain maintains a hard-earned reputation for putting smiles on people's faces with grub.
But with each restaurant now catering to the same territory, I set out on a journey to conclude which really reigns supreme when it comes to the legendary culinary showdown between Shake Shack and In-N-Out.
After a long day at the office, I decided to find out once and for all which famous chain really is the burger boss: Shake Shack or In-N-Out?
Move over, happy hour. Hello, burgers!
Waiting for an Uber! I mean, I am about to devour two meals in one sitting. Did you really expect me to move a muscle?
In New York, I would've just been able to open Shake Shack's handy line cam on my laptop and see how long the line is before showing up. But this is Los Angeles and waiting for an Uber is equivalent to waiting for the subway.
Luckily, this new Action Bronson "Mr. Two Face" track is helping me stay calm, cool and collected as I await my app-controlled chariot.
After standing in line at In-N-Out for 15 minutes, I was finally blessed with pure gold in the form of glutenous glory. Thank you, food God.
The best part about actually going into an In-N-Out location, rather than circling the drive-thru, is you get to interact with the chain's super-friendly staff. I'm not sure if they're "super-friendly" this time or just really stoned from celebrating 420.
But I do have the goods, so off to Shake Shack we go!
It's time to Uber over to the custard kingdom that is Shake Shack.
It's funny: The first time I ever had Shake Shack, I was practically dying of heat stroke from walking around in the humid, suffocating summer temperature on the streets of Midtown Manhattan.
Therefore, I did not order a burger OR fries, but a malted marshmallow milk chocolate frozen custard.
This time, I'm ordering the equivalent of a standard Double Double order at In-N-Out.
The wait at Shake Shack was about 20 minutes, but it felt certainly like an hour and now I'm just "hangry." This guy thinks this is a photo shoot:
With the West Hollywood Shake Shack being the first-ever location in Los Angeles, it makes sense there would be a ridiculous line of equally hangry people waiting to order.
Line cam, please!
Finally, I have my Double Shackburger, cheese fries and a water. There's no way I'm drinking two shakes. Sorry, kids.
Despite the wait, all is well. Time for the moment I've waited eight whole hours for.
After scarfing down both burgers back to back (queue the Drake track), I feel completely insane and in dire need of a hammock.
I was completely blown away by the Double Shackburger. I'm not sure if it was because I was ridiculously starving, or because I made a smart move by requesting the applewood smoked bacon on the side.
Before I realized, I was stuffing my face with In-N-Out's coveted Animal-Style fries WHILE eating my burger from Shake Shack. The results? Let's just say these two burger chains would be smart to collaborate on side orders!
In-N-Out's Double Double is a classic staple in the world of burgers, but I didn't have the option to add a side of bacon. The shake was delicious and the Animal-Style fries will always be worth the trip.
And the winner is...
This was a tough call but a call I had to make, not just for me, but for all of humanity. It's a decision a lot of people may disagree with but, hey, life goes on.
After taste-testing two well-respected fast-casual burger chains that have grown to dominate either side of the country, I concluded that each establishment is in its own league.
While In-N-Out offers classic American cuisine at an unbeatable price point, Shake Shack's extensive, slightly more costly menu allows patrons to get creative with their choices.
Shake Shack also offers beer and wine, while In-N-Out will gladly take your order on an iPad before you get to the drive-thru window for better efficiency.
In other words, it is totally possible for each of these popular burger chains to coexist. My only issue with In-N-Out is that it hasn't mustered up enough courage to compete alongside The Shack in New York!