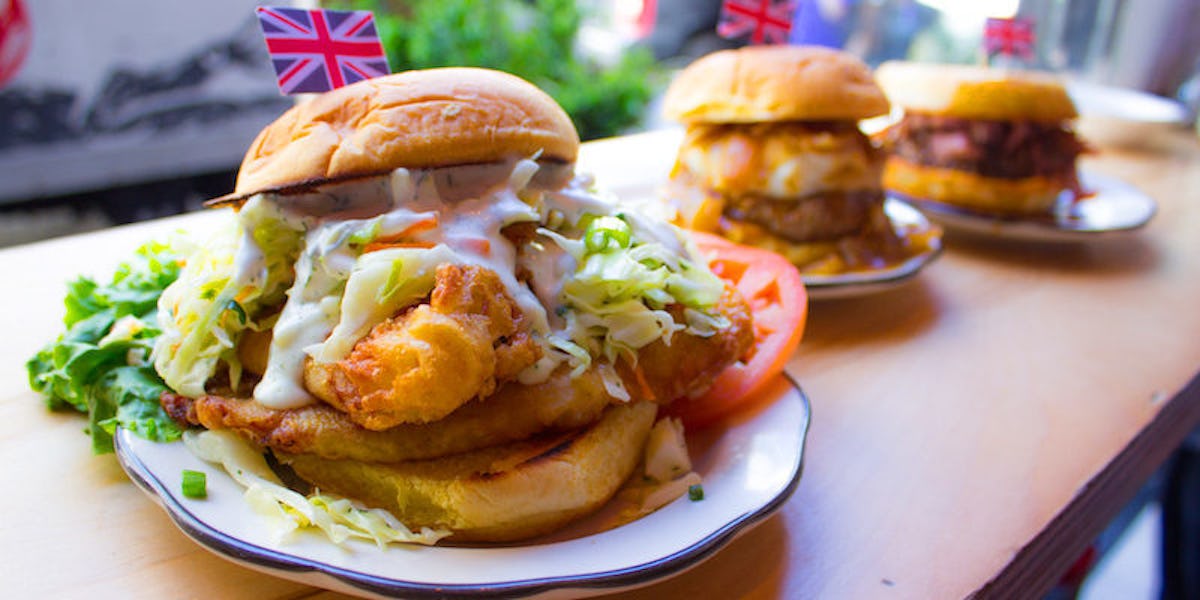 You Need To Try These Insane Burgers Inspired By Adele And James Corden
'ALLO, GUVNA! WE'VE WHIPPED UP A BATCH OF BRITISH CELEBRITY BURGERS THAT'LL MAKE YOUR BLOODY MOUTH CHIP, CHIP ALL THE WAY TO PICCADILLY CIRCUS, ALL RIGHT, ALL RIGHT.
British food for the most part kind of sucks. It's all gray and has names like "Blood Pudding," "Spotted Dick" and "Prince Henry's Foreskin Pie." It just seems like the least appealing subset of food. India has cool spices, and Japan has sushi, but what does the UK have? Tea, the most boring of hot drinks, and biscuits, the most boring of breads?
It's unfair because Britain is responsible for other great things that deserve better food to be associated with. The Beatles! Kate Middleton! Being a cop who walks by some pickpocketers and says, "What's all this then?" Those things deserve quality food, and if there is anybody who knows about quality food, it's the USA.
We invented the KFC Double Down, OK? THE DOUBLE DOWN. THE MOTHERF*CKING DOUBLE DOWN. We know food.
So, we decided to team up with our friends at Black Tap NYC -- the restaurant you may remember from its Kylie and Kendall milkshakes -- to produce a series of burgers inspired by some of Britain's pop-modern royalty.
The James Corden Fish & Chips Burger
Ingredients: 2 Massive Fried Fish Filets Coleslaw Dill Mayonaise Malt Vinegar
British sandwich + American song = the perfect union of our nations.
Adele's Bangers & Mash
Ingredients: One Beef Patty Whipped Mashed Potatoes Sautéed Onions Gravy
You can barely tell I was the one to sing these covers.
Ed Sheeran's Yorkshire Pudding Burger
Ingredients: Pork Sausage Roast Beef Au Jus
Once again, it's uncanny how much I sound like the original song.
The Royals
That's a wrap on British celebrity burgers -- just in time for the "Game of Thrones" premiere this Sunday!*
* "Game of Thrones" takes place in London, right? Like, obviously it doesn't, but also, it doesn't NOT take place in London. Think about it.
For a closer look at Black Tap's insane burger creations, follow Elite Daily's official Snapchat, elitedailysnap.