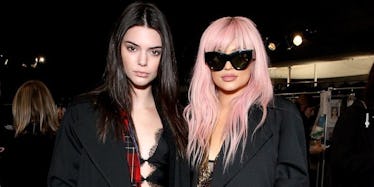 This Kendall And Kylie Jenner Milkshake Will Actually Break The Internet
Getty Images
Kylie and Kendall-inspired milkshakes... YOU'RE WELCOME, AMERICA.
It's no secret or surprise Kendall and Kylie are slowly taking over the reigns of the world's most popular family.
The two younger siblings of the Kardashian-Jenner mishpocha were kind of always bound to become the most prominent members of Kris' clan; that's how life works.
Kim's a mom now! She has other things to do! She doesn't need to be the figurehead of the family anymore.
It's Kendall and Kylie's time to shine, and Lord knows they've been crushing it. Kylie's lip kit, Kendall's modeling career, their apps, Balmain x H&M and a joint clothing line all DOMINATED and/or continue to DOMINATE.
We wanted to do something nice for Kendall and Kylie in honor of all their successes, but we had a hard time figuring out something they'd like.
What do you get someone from a family with an unlimited well of money, great looks, connections in the entertainment industry and Gigi Hadid's personal phone number?
Easy: a personalized milkshake.
WHO DOESN'T DREAM OF HAVING A MILKSHAKE MODELED AFTER HIM OR HER?!?! Nobody. That's who!
Thanks to our friends at Black Tap NYC, we were able to make this dream of providing K+K their own line of milkshakes a reality!
You will faint several times looking at this Kendall and Kylie milkshake.
#BreakTheInternet
OK, OK, OK, OK. Calm down. Let's talk about this puppy rationally for a hot sec.
Here is how you make one of these bad boys: The base is vanilla ice cream, milk and vanilla syrup all blended together.
Then, it gets all this good sh*t.
Then, it gets some of this.
Then a little of this.
A SKOONTCH of this.
SOMMMA DIS.
It's topped off with a pinch'a dis.
Then finished with some chocolate syrup à la Kylie's lip kit.
I'm exhausted and have diabetes now.
Black Tap NYC is located at 529 Broome St., New York, New York.