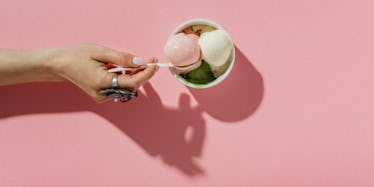 If You Want To Be Trendy This Summer, You'll Need To Eat More Ice Cream
Tatjana Ristanic
It's no secret that ice cream is definitely having a moment. A few days ago, we told you about a mouthwatering museum coming to NYC at the end of the month. But if you missed this tasty news, let me give you the inside scoop.
The Museum of Ice Cream is set to open its delectable doors on July 29, so pretty soon you'll be able to satisfy your appetite for artwork by immersing yourself in all things ice cream.
According to the museum's website, there is going to be "edible balloons, an immersive chocolate room, a collaborative massive ice cream sundae" and even a custom app that lets you find your perfect flavor match.
This epic exhibit will also give you the chance to "swing on an ice cream sandwich made for two and seesaw on an ice cream scooper" because seriously, why the hell not?
If running around an icy Candyland IRL isn't enough to make you cry ice cream-induced tears of joy, you might want to brace yourself because I've saved the best brain-freezing news for last.
You'll also be able to dive face first into your favorite ice cream topping because there's going to be a giant swimming pool filled with RAINBOW SPRINKLES.
I know, what a time to be alive.
While this sugar-filled sanctuary might sound like a pretty innovative idea, our obsession with ice cream is nothing new. Yep, ice cream definitely seems to be the trendiest, not to mention tastiest, accessory of the summer season.
So it was pretty ingenious for the museum to capitalize on this frosty food fad and give the people what they want -- an excuse to stuff their faces with ice cream and shamelessly snap pictures with their coveted cones.
Check out the pictures below to see proof that ice cream is the food of the summer.
If you're looking for the tastiest way to stay on trend, you might want to pay attention.
We're about to give you the inside scoop on this season's coolest accessory.
It's not a clutch, a bracelet or a phone case. It's ice cream.
Yep, when it comes to rocking some fashionable foods...
...ice cream seems to be all the rage right now.
No really, I'm serious. Ice cream is basically the new black.
Since the beginning of the season, we've been drooling over all sorts of eye-catching confections on Instagram.
The make-your-own Magnum bars had a serious moment...
...and lots of people snapped selfies with sea-inspired styles.
We saw foodies pair their ready-to-eat scoops with puffy egg waffle cones...
...and marshmallow embellishments totally made a comeback.
Kanye-worthy confections stole the social media spotlight for a while...
And you can't forget about the advent of wine ice cream...
These brain-freezing beer floats...
...or those delectable doughnut sandwich-topped cones that prove dreams really do come true after all.
Yep, I think it's safe to say ice cream is officially cooler than all of us.
Citations: Soon, You'll Be Able to Swim in a Pool of Sprinkles at This Museum Dedicated to Ice Cream (Time)