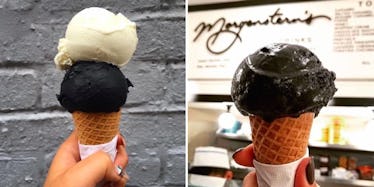 This Delicious Black Ice Cream Is The Trendiest New Treat For Summer
It's not hard to see the color black is definitely having a moment this week.
First, Kylie Jenner surprised all of us by revealing a sparkly super-dark shade for her newest addition to her Lip Kit collection.
Then, an ice cream shop blew all of our damn minds by putting a shadowy spin on one of our favorite summertime treats.
That's right. Morgenstern's Finest Ice Cream in New York City just changed the frozen dairy game forever by figuring out how to make an epic jet black ice cream.
I repeat, black ice cream is real, and it might be the most Instagram-worthy scoop of all time.
Now I know what you're thinking, and yes, black ice cream isn't a totally new invention, since others managed to concoct a similar type of ice cream with dye, squid ink, sesame seeds and dark chocolate in the past.
But Morgenstern's ice cream isn't your average onyx-colored confection.
Apparently, Morgenstern's is the first to use coconut ash to achieve this ominous shade of ice cream.
If you're not sure what the heck coconut ash is, it's the burned and processed remains of a coconut shell, and it's basically a form of activated charcoal.
According to the shop's owner, Nick Morgenstern, the coconut ash gives these edgy scoops of ice cream a rich coconut flavor as well as their signature shade of black.
I don't know about you, but I'm always down to stuff my face with anything that matches all of my outfits... and my soul.
Check out the pictures below to see this insane ice cream.
If you're looking for the hottest way to cool off this summer...
...you'll be glad to know there's a trendy new ice cream taking over the scoop scene.
Behold: black ice cream.
Morgenstern's Finest Ice Cream in NYC is the parlor responsible for creating this shadowy confection...
...and these badass scoops are basically the edgy, gothic versions of your favorite frozen food.
Apparently, this eye-catching ice cream is made with coconut ash...
...which is pretty much just a fancy name for the charred remains of a coconut shell.
The coconut ash gives this ice cream its haunting, not to mention Instagrammable AF, hue...
...as well as a delectable, rich coconut flavor.
If you're looking for some ice cream that is as black as your soul...
You'll be glad to know this insane ice cream made its debut on the Morgenstern's menu yesterday...
...so it's only a matter of time before the trendy ice cream totally takes over social media feeds.
Citations: Important: Black ice cream is now a thing and it's super edgy (Metro UK)