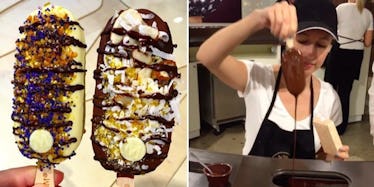 These Gourmet Make-Your-Own Ice Cream Bars Look Way Too Good To Be True
There's nothing better than cooling off with a delicious ice cream bar on a hot summer day.
But you know what's even better than scoring your favorite ice cold confection out of the freezer section?
Making your very own customized ice cream bar, of course!
Yep, the ice cream brand Magnum just answered all of our sweet prayers by opening its very first pop-up store in NYC that allows you to make all sorts of handcrafted ice cream bars.
If you're wondering how the whole delicious process works, let me give you the scoop.
After dishing out $7, you'll make your way through a series of stations where you select your ice cream base, chocolate coating, toppings and drizzle.
If that's not enough to make you drool, you'll be glad to know you can watch the whole glorious process since they bring your cool creation to life right before your hungry eyes.
Take a look at the pictures below to get a closer look at these epic ice cream bars.
If you're looking for a way to take your ice cream to the next level...
...you'll be glad to know you can now put a custom spin on one of your favorite ice cream bars from the freezer section.
That's right. Magnum just opened a pop-up store in NYC that lets you personalize your treats...
...and it's not hard to see these badass bars look tasty AF.
Upon walking through the doors, you'll embark on a delicious journey...
...that takes you through several sweet stations as you build your one-of-a-kind bar.
First, you'll make your way over to the toppings station...
Where you can pick up to three of 20 irresistible ingredients that range from espresso sugar and cookie crumbles...
...to goji berries, gold flakes, rose petals and everything in between.
Then you choose your base, which comes in two flavor options: a vanilla bean or rich chocolate ice cream bar.
From there it's on to the dipping station where you can choose to coat your ice cream bar in either milk, dark or white chocolate...
And basically drool all over yourself as you watch someone gloriously plunge your bar into chocolatey goodness...
...before smothering the whole thing in your chosen toppings.
Then it's time to add a final drizzle of white or milk chocolate for good measure...
...and you're all set to stuff your face with an ice cream bar that perfectly fits your personal taste.
Citations: You Can Now Make Your Own Custom Ice Cream Bar In New York City (BuzzFeed)