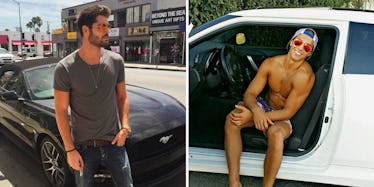 These Hot Dudes And Cars Will Take You From Zero To One Hundred (Photos)
Instagram
There's no shortage of fine fellas to lust after on social media.
Lately, we've seen everything from buff bookworms on the subway and hot dudes with dogs to men who make coffee steamier than you ever thought imaginable.
If you're in need of some eye candy to get you through the day, you'll be glad to know we just came across a new group of guys who will make your heart race at a million miles per hour.
No really, you might want to crank up the AC or crack a window because it's about to get seriously hot up in here.
Behold, hot dudes and cars.
Yep, there's something about a good-looking dude with a seriously sexy ride that makes the ladies lose their damn minds.
Whether these blessed babes are burning rubber on the highway, cruising around with their tops down or simply leaning on the hood of their cars looking hella fine, these hunks and their hot rods are guaranteed to ignite your spark plugs.
Take a look at the pictures below to see a some insanely hot dudes and cars.
Nothing can top a good-looking guy who has a smokin' ride.
I mean, seriously, just look at this shirtless stud in a sedan...
...these eye-candy twins on the hood of a coupe...
...and this heavenly hunk with a need for speed.
Check out this gorgeous guy whippin' all white everything...
...this divine dude lookin' back at it...
...and this bougie babe who left his roof at home.
Is it steamy in here or is it just this sizzling stud?
I'm not sure what it is, but there's just something about seeing a blessed babe behind the wheel...
...that drives every woman completely wild.
Two hot guys in convertibles? Excuse me while I take my clothes off.
This fine fella is sure to make your heart race...
...and this magnificent man makes black and yellow look irresistible AF.
Hey babe, wanna show me what you've got under the hood?
If car selfies are wrong, I don't want to be right.
I'd ride shotgun with you any day.