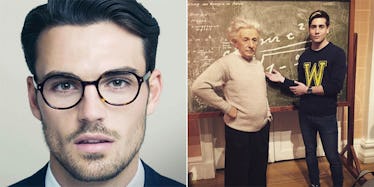 These Hot Nerds Have The Brains And Brawn To Make You Fall In Love (Photos)
Instagram
A while back we introduced you to Dr. Mike.
You know, that mesmerizing medical professional who took social media by storm.
If there's one thing we can learn from this drool-worthy doc, it's ladies love a man who's not afraid to flex his most attractive muscle: his brain.
Yep, there's just something incredibly sexy about a good-looking guy with a geeky side.
As a biology major, I've always had a thing for science nerds.
But then again, you can't really blame me for lusting after hunks who look hella fine in a lab coat.
Because, let's face it, nothing is hotter than a man with big muscles and the ability to solve math problems.
Whether these fine fellas are cute computer nerds, sizzling scholars, blessed bookworms or gorgeous video game geeks, these brainiacs are guaranteed to make you more hot and bothered than an exothermic reaction.
Take a look at the pictures below to see some irresistible geeky guys.
These dudes totally nail the whole nerdy look.
I mean seriously, who knew scholars could be so damn sexy?
Just look at this blessed brainiac...
...this gorgeous geek in glasses...
...this computer Cassanova...
...and this mesmerizing mathlete.
Ugh, I love it when a man talks science to me.
This good-looking geek is guaranteed to make you extra thirsty.
A guy who's smoking hot and smart? Excuse me while I take my clothes off.
This exothermic stud certainly knows a thing or two about good chemistry.
No woman can resist a bunch of brawny bookworms.
This geeky video-gamer is one hell of a catch.
That bunsen burner isn't the only hot thing in this lab.
The force is definitely with this seductive "Star Wars" fan.
If I were an enzyme, I'd be DNA helicase so I could unzip your genes.
This "Harry Potter" hunk doesn't need a spell to make the ladies fall in love.
Pardon me, do you have 11 protons? Because you are sodium fine.