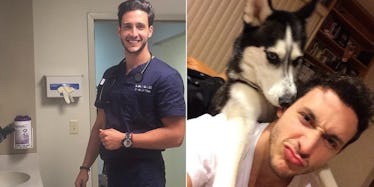 This Super Hot Doctor And His Gorgeous Husky Are Literally Everything (Photos)
No one really likes going to the doctor.
Unless, of course, you happen to be getting your annual checkup from the dreamy Dr. Mike.
BuzzFeed recently came across this hot doc on Instagram, and let me tell you, his photos do not disappoint. In fact, I'm pretty sure his uploads will make you drool more than man's best friend.
Aside from being smart and seriously sexy, this second-year medical resident is also a doggy dad to a Husky named Roxy, and this dog is just as gorgeous as her proud owner.
These two make one insanely-adorable pair, and once you see their daily adventures together, you'll come down with a serious case of the love bug.
Take a look at the pictures below to see this dynamic duo.
Meet Dr. Mike.
Dr. Mike is a second-year resident in New York City.
If his insanely sexy whip...
And smoking hot bod aren't enough to make your heart race like a dose of epinephrine...
...you'll be glad to know this dude is also a doggy DILF.
He has a beautiful Husky named Roxy...
...and these two might just be the most #blessed BFFs on the face of the planet.
Excuse me, doc, are you drowning? Because I'm feeling the urge to give you CPR.
Roxy is definitely the number one girl in Dr. Mike's life.
When they're not playing at the park...
Perfecting their doggy handshakes...
Or cuddling on the couch...
You can usually find these two snapping selfies in the car...
Flexing some seriously impressive costumes...
...or hanging out with some of their puppy pals.
You can give me a physical any day, Doctor Mike.
Citations: Um, You Really Need To See This Hot Doctor And His Dog (BuzzFeed)