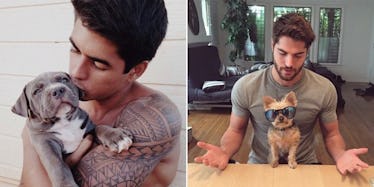 Hot Dudes With Dogs Will Have You Drooling More Than Man's Best Friend
Instaram
We've seen a lot of Instagram trends featuring hot guys lately.
Remember when we showed you those smart, sexy guys reading on the subway and those delicious men with their morning coffees?
Well, there's a new Instagram account heating up the social media scene and it's going to give all those brawny bookworms and cute caffeine addicts a run for their money.
You might want to open a window... Things are about to get seriously steamy.
Behold, Hot Dudes With Dogs.
If you happened to see my latest Instagram endeavor featuring a bunch of racky dogs, you already know I'm a huge fan of man's best friend.
But, if there's one thing in the world I love more than barking ballers, it's guys. Ridiculously hot guys.
Therefore, it was only logical to bring these two heavenly creatures together. I set out to find the best looking dudes and dogs across the globe and compiled them into one badass Instagram account.
Ladies, you're welcome.
Whether these hot dudes and their insanely cute dogs are cruising around in their cars, lying out in the sun, sharing a few slobbery canine kisses or showing off outfits that are straight fire, there is one thing you can always be sure of: These dynamic duos are the Holy Grail of all things hot.
Behold, hot dudes and their adorable dogs.
These dudes and their dogs always look fly.
Whether they're showing off some muscles alongside their mini mutts...
 Working up a sweat as they're out walking...
Or showcasing their sensitive sides in a few snuggle selfies...
...these guys and their dogs don't mess around when it comes to being hot as f*ck.
 Seriously, just look at those irresistible puppy eyes.
That's funny... I don't remember eating a sexy beast this morning. #YouAreWhatYouEat
Hey girl, my pup wants to say "hi" to you.
This dynamic duo has some serious swag.
Better turn on the AC... Things are getting pretty steamy in this ruff ride.
Who's up for a little hot yoga with the hounds?
This heavenly hipster loves canine kisses.
Nothing is sexier than doggy slobber and sleeves.
These sunbathers are sizzling hot.
It doesn't take a college degree to see these guys are adorable.
This handsome pair is the epitome of eye candy.
We woke up like this. #FidoFlawless