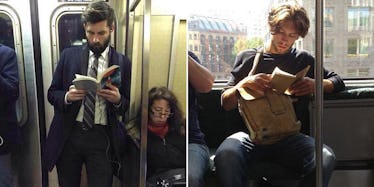 'Hot Dudes Reading' Will Make Your Morning Commute So Much Better (Photos)
Instagram
There are a lot of characteristics to look for when you're on a quest to find the perfect man.
Sure, you want a guy who's nice, funny and good-looking. But most importantly, you want a smart man who can expand your intellectual horizons and teach you a thing or two about life.
The only thing sexier than a guy with intelligence is a really, really hot guy with intelligence.
But finding these guys in a big, crowded city can be like searching for a needle in a haystack.
Until now, that is.
There's a hot new trend filling up our social media newsfeeds, and thankfully, it's not colored beards or bros acting like basic bitches.
Instead, some genius has finally set out to find all the rare men who are both hot and well-read in New York City and to compile them into an Instagram account for all of us to drool over.
So, how can you tell these guys don't just have pretty faces?
Well, nothing screams "I'm intelligent" like reading a book, and that's precisely what you can find all these good-looking guys doing on the Instagram account called @hotdudesreading.
Whether they're reading a best-selling novel, browsing the newspaper or flipping through a textbook on the subway before class, it's easy to see each guy has a good head on his shoulders, and it's a good-looking one indeed.
Some of them even take it to the next level by pairing their brains and brawn with the ultimate lumbersexual beard.
If you're looking to get with one of these guys, you better start brushing up on classic literature and hanging out at the library more often.
Take a look at the pictures below to see this hot new Instagram trend.
Feast your eyes on these hot guys reading.
These guys are incredibly good-looking.
And they aren't afraid to show their intellectual side by toting a few books around town.
Whether they're skimming through a few chapters to prepare for class...
...or catching up on some current events...
...there's no denying these guys are hot and smart.
Not even a crowded subway can stop this guy from finishing his book.
Not to mention, a book is the perfect accessory to go along with a big, sexy beard.
If only all men were this perfect.
Elite Daily Bonus : Harry Potter reading his own book. You're welcome.
Citations: Hot Dudes Readingu201d Is The Sexiest Thing On Instagram Right Now (Buzzfeed)