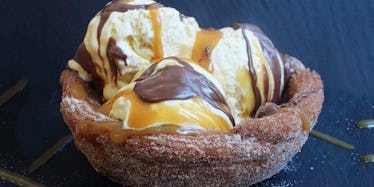 These Insane Churro Bowls Will Take Your Ice Cream Sundaes To The Next Level
Australia definitely made a name for itself as the Frankenfood capital of the world.
If its mind-blowing milkshakes and colossal cannoli-stuffed cannolis aren't enough to convince you, just wait until you see the newest dessert creation from Down Under.
Remember when I showed you those glorious dough cones?
Well, an establishment in Sydney, Australia just took this concept to a whole new level of deliciousness.
Feast your eyes on the almighty churro ice cream bowl.
Yep, your days of settling for sundaes in a sh*tty paper cup may now be a thing of the past because Milky Lane just figured out how to create bougie ice cream bowls made entirely out of your beloved sugary pastry.
If that's not enough to make you drool, you'll be glad to know Milky Lane plans to load these bad boys up with all the sundae essentials, including homemade soft-serve ice cream, Nutella and lots of gooey caramel, of course!
Apparently, Milky Lane won't be open until early next month, so if you're looking to get in on the churro bowl action, you'll have to figure out how to make these delectable treats on your own.
But don't worry, I set out to find a bunch of badass churro bowls to give you some sweet inspiration.
Take a look at the pictures below to see some epic edible churro bowls.
Forget those weak waffle cone sundaes...
There's a new edible bowl taking over the ice cream scene...
...and now churro bowls are all the rage.
That's right. Ice cream bowls made entirely out of fried cinnamon-sugar doughnuts actually exist...
...and these doughy ice cream vessels are basically what dreams are made of.
No, really, these things look delicious AF.
Just think of all the years you wasted eating ice cream out of mediocre cones...
...when you could have been stuffing your face with one of these sweet bowls.
If you're looking to get in on the churro bowl action, I'll give you the scoop.
Apparently, to make one, all you have to do is pipe some churro batter around a bowl-shaped object and throw it in the freezer.
Then, once the batter's frozen into its proper shape, you simply deep fry the dough to crispy golden perfection, smother the whole thing in cinnamon sugar...
...and you're all set! You now have a fancy bowl just waiting to be loaded up with all sorts of frozen treats.
Citations: AUSTRALIAN ICE-CREAM SHOP UNLEASHES CHURRO BOWLS UPON THE WORLD (First We Feast)