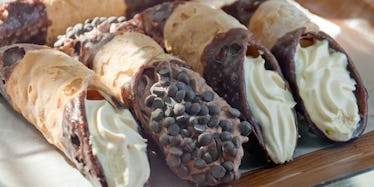 This Massive Cannoli Stuffed With 50 Smaller Cannolis Will Blow Your Mind
Shutterstock
It's no secret Australia is responsible for some of the world's most insane snack inventions.
From towering burgers to milkshakes topped with everything but the kitchen sink, it's pretty obvious Aussies have a go-hard-or-go-home mentality when it comes to whipping up some over-the-top eats.
However, it turns out their Frankenfood endeavors aren't limited to fast food.
I just came across another decadent dessert from Down Under that will give those milkshakes a serious run for their money.
Feast your eyes on the Bazooka Cannoli.
Created by the Sydney, Australia-based bakery Pasticceria Caruso, this mind-blowing dessert features a giant cannoli shell that is actually stuffed with 50 smaller cannolis, because why the hell not?
The bakery's spokeswoman, Josie Gagliano, told BuzzFeed,
It came about by accident, really. We created it as a bit of joke for a relative's birthday and we decided it looked like a huge bazooka gun, filled with cannoli, hence the name.
People basically lost their minds after this cannoli creation was posted on Facebook, so Pasticceria Caruso decided to add it to the menu, and now the bakery cranks these colossal cannolis out for its customers on the reg.
Check out the pictures below for a closer look at this insane snack.
Behold, the Bazooka Cannoli.
This almighty cannoli takes your favorite Italian treat to the next level by swapping out that boring cream filling...
...for a bunch of smaller cream-filled cannolis, of course!
That's right. The Bazooka Cannoli is basically a big cannoli shell stuffed with 50 normal-sized cannolis...
...and it looks downright delicious, to say the least.
Pasticceria Caruso is the mastermind behind this dessert creation...
...and now people are losing their sh*t over this sweet cannoli inception.
The construction of this treat appears to be pretty simple.
All you have to do is take a ginormous cannoli shell and strategically load that baby up with normal-sized cannolis, which are held in place with super glue, aka chocolate ganache.
Unfortunately, you can only get your hands on one of these babies by visiting the bakery in Australia.
But hey, if you ask me, this tasty treat is totally worth a plane ride to the other side of the world.
Citations: This Giant Cannoli Stuffed With 50 Normal Cannolis Is Too Pure For This World (BuzzFeed)