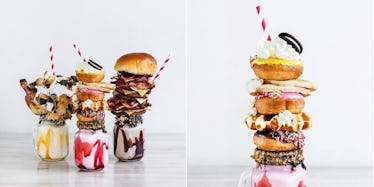 These Crazy Milkshakes Take Food Goals To A Whole New Level Of Insanity (Photos)
Some people will stop at nothing to create the most insane food porn creations known to man -- all for the sake of social media, of course.
Remember when we showed you that delectable Nutella doughnut-topped shake from Down Under? Well, if you thought that cool confection looked amazing, you haven't seen anything yet.
Apparently, there's an all-out milkshake epidemic spreading across Australia.
Now, no milky beverage is safe from being transformed into a ridiculous towering treat that pushes the limits of frosty Frankenfoods.
Lately, we've seen countless cafes ditch the plain vanilla shakes for mason jar creations clad with all sorts of over-the-top dessert garnishes.
But what's even crazier is people are waiting in line for hours just to get their hands on one of these bad boys.
One food blogger, Alana Dimou, commented on Sydney's "cult of Extreme Milkshakes," saying,
Everyone's holding one of these extreme milkshakes, gnashing at food for the sake of social media, exchanging calories for notifications.
However, Dimou figured if you can't beat them, you might as well join them. She set out to poke fun at the milkshake cult by creating a few of her own outrageous shakes.
Let's just hope none of those Aussie cafes get any ideas from her crazy parody shakes.
Move over, Nutella ball shake.
Food blogger Alana Dimou just took dessert to a whole new level by whipping up some parody shakes that mock the extreme milkshake craze in Sydney.
Her playful creations include a bacon burger-stacked shake...
...and a frosty treat piled high with everything in the bakery aisle.
There's even a milkshake garnished with an entire s'mores chicken. Now that's what you call some seriously impressive food porn.
Citations: The cult of the extreme milkshake has gone too far (Metro)