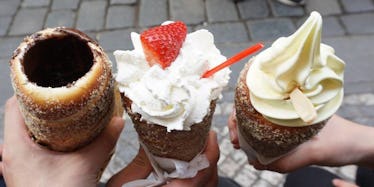 These Incredible Dough Cones Take Ice Cream Sundaes To The Next Level
If you've been staying on top of your #FoodPorn game, you may have noticed the Internet's newest obsession revolves around ice cream cones.
However, Instagram foodies aren't just posting photos of your average, run-of-the-mill ice cream vessels.
Nope, it seems everyone is posting photos of the insane pastry cones made by Good Food: Coffee and Bakery.
Apparently, these things are called trdelníks (sometimes referred to as chimney pastries).
A trdelník is a traditional Czech pastry named after its hollow shape, and the pastry's spacious inside serves as the perfect spot to stuff all sorts of delectable fillings.
Unfortunately, you're going to have to take a trip to the Czech Republic if you want to get your hands on one of these bad boys because the pastry shop is located in Prague.
But trust me, these things look totally worth a plane ride across the world.
Move over waffle cones...
...there's a new way to eat ice cream that's stealing the food-porn spotlight.
People are practically losing their minds over these insane pastry cones...
...made by Good Food: Coffee and Bakery in Prague.
Known as a trdelník, the traditional, doughy dessert gets its name from its cylinder shape.
You can opt to eat these things plain or put that empty space to good use by turning the cone into a seriously badass, bougie dessert.
It all starts out by wrapping dough around a cylinder...
...to create a hollow, fluffy pastry.
Then, you can coat the inside of your chimney with chocolate and sauces...
Stuff it with a wide range of delicious fillings...
Like strawberries and whipped cream...
...or go all out and turn one of these things into a glorious ice cream cone.
Between the irresistible appearance of trdelníks...
And the charming city backdrop of this pastry shop...
...there's no denying these things might be the most Instagram-worthy treats of all time.
Now, excuse me, I need to go catch the next flight to Prague.