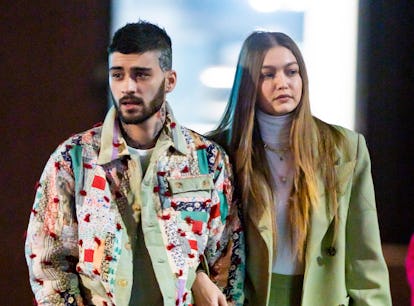 Zayn Addressed Yolanda Hadid's Allegations Almost 2 Years Later
Plus, he talked co-parenting with Gigi.
Gotham/GC Images/Getty Images
It finally happened: for his first interview in six years, former One Direction star Zayn Malik went on Call Her Daddy. Though he was there to promote his new song "Love Like This," he also opened up about his boy band past and his relationship with co-parent Gigi Hadid. Another difficult subject came up, too: Zayn's alleged altercation with Gigi's mother, Yolanda Hadid.
In October 2021, Yolanda claimed that Zayn "struck" her, according to TMZ. Later that month, per Us Weekly, Zayn was charged with harassment and accused of "causing mental anguish and physical pain" to his daughter's grandmother. The alleged incident happened on September 29, per court documents obtained by the outlet. At the time, Zayn plead no contest. However, he gave a statement to TMZ, denying the accusation that he "shoved" Yolanda. "I adamantly deny striking Yolanda Hadid and for the sake of my daughter I decline to give any further details and I hope that Yolanda will reconsider her false allegations and move towards healing these family issues in private," he said at the time.
During his July 12 Call Her Daddy interview, Zayn revisited the controversy. "I knew what the situation was, and I knew what happened, and the people involve know what happened, and that's all that matters," he said. "I just wasn't trying to get into a negative back and forth with her [or] any sort of narrative online where my daughter was going to look back and read that."
Zayn added, "I believe I dealt with it in the best way, like, in an amicable [and] respectful way. And that's all that needs to be said. I feel like it's a lot of negativity, you know?" There's a reason he doesn't typically talk about the messy subject. "For me, my most valuable thing that I have in life in time. And that takes so much time, in a toxic environment, to explain yourself to people and justify this. I just kinda keep to myself," he explained.
Despite the difficult situation, which was immediately followed by Zayn and Gigi's breakup, the singer shared that he and Gigi have split custody. He added that their co-parenting relationship is "really good" and they both see that their daughter Khai as "the main importance."
"I'm super full-on, hands-on with my child every chance I can be," he said of their custody arrangement. "If I could get 60%, I would have it."