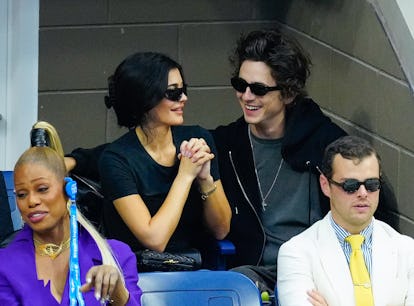 A Kardashians EP Revealed If Timothée Or Bad Bunny Will Be On The Show
Have you been keeping up with Kylie and Kendall's famous boyfriends?
After so many months of online rumors and clandestine dates, Kylie and Kendall Jenner are finally flaunting their famous boyfriends proudly in public. But are their BFs ready to take the next major step and bring their romance to the reality TV cameras? Now that Timothée Chalamet and Bad Bunny are embracing the limelight in their new relationships, it's a fair question, and a producer for The Kardashians has the answer.
For a while, both Kylie's relationship with Chalamet and Kendall's connection with Bad Bunny were just gossip. But that all changed in the past few months. Kylie and Chalamet have been getting cozy at Beyoncé concerts, tennis games, and fashion shows, while Kendall and Bad Bunny starred in a Gucci campaign together and start letting some details slip about their fiery romance.
But in the Kardashian universe, there's still one final layer of going public. So far, Chalamet and Bad Bunny have not made any appearances on the famous fam's Hulu show The Kardashians, which recently premiered its fourth season. While they may pop up down the line, executive producer Ben Winston shut down hopes that they would appear in the current season.
"No, we haven't filmed that," Winston told Variety when asked about any Chalamet or Bad Bunny cameos.
He also declined to reveal if he has plans to bring them into the show or not: "No comment. Nothing I can say can bring me good things on that," Winston said. "If I say I hope to, then suddenly that's a headline, and suddenly I don't get any access. I can't win on that. So I can just say that we haven't filmed anything."
And don't expect Kim's rumored love interest to show up this season, either. When asked about the rumors Kim is dating Odell Beckham Jr., Winston said her love life isn't the focus of the current season.
"I think, for her, this season is more about how she juggles her insanely crazy life of being this hands-on mom, this kickass business woman, and the responsibilities that are growing as she takes on more and more roles," he said. "The juggling of it all — plus her law, plus her social reform — is a big part of this show this year."
New episodes of The Kardashians Season 4 drop Thursdays on Hulu.