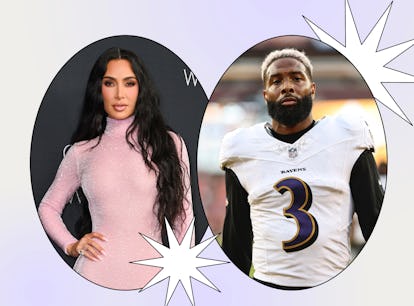 Are Kim Kardashian & Odell Beckham Jr. Dating? All The Rumors
Apparently, he's met the fam.
There may be a new man in Kim Kardashian's life. Per reports, The Kardashians star is seeing NFL player Odell Beckham Jr., who plays for the Baltimore Ravens. A source told People on Sept. 19 that Kardashian and Beckham Jr. "are hanging out," but it might not be a serious 'ship just yet.
According to Entertainment Tonight, Kardashian and Beckham Jr. have been spending some time together. "Kim and Odell have known each other for a while and have hung out more recently," an insider told the outlet on the same day. Per sources, the reality star and football player "have a lot of mutual friends in common."
Kardashian and Beckham Jr. might be "hanging out," but that doesn't mean they're ready to put a label on things. "She's not seriously dating anyone at the moment, but open to finding love again if she meets the right person," a source told ET. "Right now her main focus is on her kids and her businesses."
Although dating might not be Kardashian's No. 1 priority, it sounds like Beckham Jr. is investing serious energy into her. On Sept. 19, a source told In Touch that the duo was "dating." The insider added, "Odell even went to Kim's in Calabasas to meet the whole family during one of [Khloé Kardashian's kid's] birthday parties a few weeks ago."
That wasn't their only hangout. Per TMZ, the maybe-couple have been seen at plenty of the same social events, from Michael Rubin's Fourth of July party to Beckham Jr.'s birthday party in November. Though they might run in the same circles, sources told TMZ that things were completely platonic between them.
Kardashian's last public relationship was with Pete Davidson, but they broke up in August 2022. Over the summer, she was rumored to be seeing Tom Brady — who was also in attendance at that A-list summer bash in the Hamptons, BTW. Back in July, a source told Entertainment Tonight, "Kim and Tom spent time hanging out and talking at Michael Rubin's white party and had a good time together." Later, though, People sources claimed that Brady and Kardashian "barely even said hello," though Kardashian "was overheard telling friends she has a crush on Tom." Now, Brady is reportedly dating Irina Shayk.
Maybe this time, the rumored NFL-Kardashian romance will prove to be more legit?