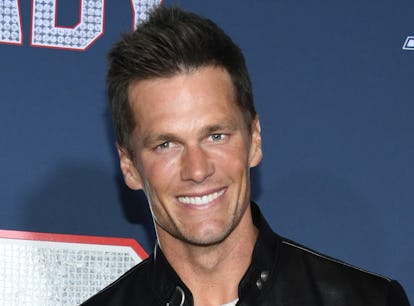 Irina Shayk Is "Very Excited" About Tom Brady Romance, Per Report
He's been spotted out with another model.
Jon Kopaloff/Getty Images Entertainment/Getty Images
It seems like Tom Brady is moving on. Following the former NFL player's divorce from Gisele Bündchen in October 2022, dating rumors have started to surround him. Though Brady has stayed tight-lipped on his current relationship status, the latest bout of speculation is looking pretty legitimate. ICYMI, on July 21, Brady was photographed with model (and Bradley Cooper's ex) Irina Shayk, taking her to his Los Angeles home. One month later, on Aug. 21, the duo is reportedly still seeing each other, according to a People source.
The duo, who was recently spotted together in London, seem excited to see where things go. Shayk is "impressed with Tom," a source claimed. "He is her dream guy. She loves dating him." Although long distance might present a challenge for some, it doesn't seem like an issue for them. "They work around their schedules and meet up wherever they can," the insider added. "Irina doesn't mind traveling to see him. She is very excited about their relationship."
A little recap on their romance: Rumors surrounding Brady and Shayk started in the early summer. On June 9, Page Six reported that the model made a "beeline" for Brady when they were both guests at the same wedding. "She followed him around all weekend," a source claimed. "She was throwing herself at him." (At the time, Shayk's manager called the claims "totally fictional.")
Then, in late July, photos obtained by Page Six showed Brady and Shayk looking cozy on a drive from the Hotel Bel-Air to his house in LA. Per the outlet, Shayk slept at Brady's place. He was spotted dropping her back off at the hotel the next morning on July 22 — and then photographed again later that afternoon picking her up for another date.
Per People, Brady and Shayk's fling had been going on for "a few weeks" by the time of their LA sleepover. According to an insider, Brady asked Shayk, who is based in New York City, to "fly out and meet up in Los Angeles." More proof that long distance is NBD for these two.
Paparazzi photos aside, there's still no direct confirmation from Brady and Shayk that they are anything more than friends — and this isn't the only romance rumor surrounding the football star. Specifically, some fans have been shipping Kim Kardashian and Brady, especially after they both attended Michael Rubin's White Party on July 4.
At the time, a source told Entertainment Tonight, "Kim and Tom spent time hanging out and talking at Michael Rubin's white party and had a good time together." However, per People sources, the duo "barely even said hello." On July 16, Rubin, aka the host himself, clarified the sitch to ET, calling the rumors "crazy" and affirming "they're just friends." (So maybe Brady isn't the mysterious "Fred" that keeps getting referenced on The Kardashians?)
As for Bündchen, there are conflicting reports about how she feels about Brady's new romance. A source told TMZ on July 24 that the model is supportive of the rumored romance with Shayk: "Why wouldn't she be happy for Tom? She divorced him. It is helpful to her freedom that he moved on." However, another insider claimed that she was "not happy at all" about Brady moving on.