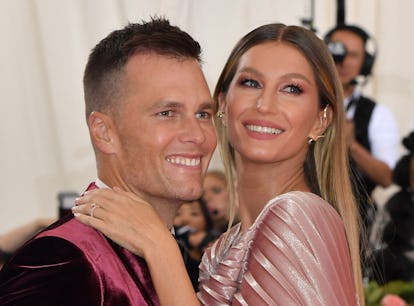 Inside Tom Brady & Gisele Bündchen's Summer Co-Parenting Plans
They've got a "little calendar."
ANGELA WEISS/AFP/Getty Images
Ever since Tom Brady and Gisele Bündchen announced their divorce in October 2022, they've made it clear that their children come first. In their public statements, Brady and Bündchen emphasized how important co-parenting would be for each of them moving forward. This summer, it looks like they're putting those words to action. On June 1, the former NFL player opened up about his "little calendar" for co-parenting and gave some details on how their kids, Vivian and Benjamin (Brady also shares son Jack with ex Bridget Moynahan), are splitting their time. No surprise, they've got a stacked schedule.
"I've got my little calendar right here," Brady told People, when asked about his summer plans with his children. "We're going to Disneyland tomorrow to celebrate because it's the last day of school. Then they're going with their mom for a couple of weeks to Brazil." Afterwards, Brady is taking them on a trip to Europe. "They got lots of good plans," he told the outlet. "These kids have a really good summer lined up."
This travel-filled, back-and-forth arrangement sounds exactly like what Brady and Bündchen were hoping for when coming up with a custody plan back in November 2022. The former couple, who divorced after Brady decided to un-retire from football, has prioritized their children throughout their breakup — even Bündchen's breakup announcement emphasized giving their kids "the love, care and attention they deserve."
At the time, a source told People that the couple was hoping to keep their custody arrangement as drama-free as possible. "[Their kids] can see whichever parent they want. They've got a schedule, but neither of them would prevent their kids from seeing the other parent," the source said. "That's not who either of them are."
The insider added, "The kids adore them both, and they'll have full access to both, whenever they want. They're not vindictive like that... These kids won't be used as pawns. They're going to be loved and cherished by both parents."
Sounds like this summer vacation is just the beginning of Brady and Bündchen giving their kids their all.