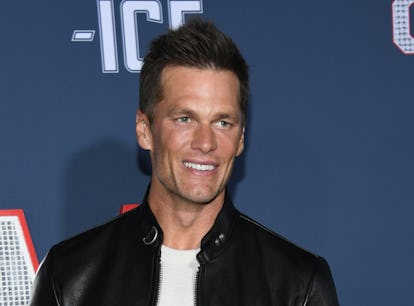 Tom Brady's Retirement Announcement Referenced Gisele Bündchen
And she replied in the comments section.
Jon Kopaloff/Getty Images Entertainment/Getty Images
Tom Brady retired from the NFL — again. On Feb. 1, the former quarterback made the announcement on Instagram, explaining that he was getting out of the game "for good." He added a carousel of photos to the post, including a few of his ex-wife Gisele Bündchen.
"I'll get to the point right away. I'm retiring for good," Brady explained in a video. "I know the process was a pretty big deal last time, so when I woke up this morning I figured I'd just press record and let you guys know first." He added, "Thank you guys so much to every single one of you for supporting me, my family, my friends, my teammates, my competitors."
In his caption, Brady wrote about his "love" for his family, teammates, friends, coaches, and football. He added, "I am truly grateful on this day. Thank you 🙏🏻❤️."
Though Brady didn't mention Bündchen by name, he didn't shy away from including her in the post. He added two photos of her in the Instagram carousel and several photos of their children. She commented on the post, "Wishing you only wonderful things in this new chapter of your life. 🙏"
For non-sports fans, Brady's post might not seem very dramatic, but considering the rumors surrounding his and Bündchen's reason for divorcing, this retirement announcement feels... loaded. ICYMI, back in October 2022, Brady's un-retirement reportedly caused serious tension in their relationship. "She was so happy when he announced his retirement, and she wasn't thrilled at all when he went back on that," a source told People at the time.
A different source told Page Six, "There's been trouble in the marriage over his decision to un-retire. Gisele has always been the one with the kids. They had agreed he would retire to focus on the family, then he changed his mind."
Even if Brady's re-retirement doesn't change their status, it looks like there are no hard feelings between these exes.