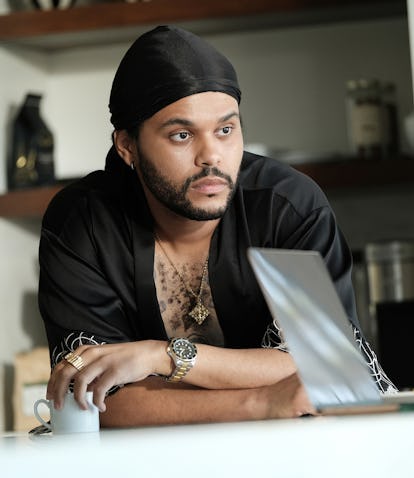 The Idol Is Canceled... For Real This Time
HBO
HBO has officially cut off Jocelyn and Tedros' mics. On Aug. 28, the network officially declined to pick up a second season of the controversial pop-star drama The Idol. The decision comes a couple months after HBO denied online rumors that the show had already not been renewed while Season 1 was airing. Reportedly, ending The Idol after just five episodes was a mutual decision between HBO and the show's creators and producers.
The Idol stirred up so much controversy, even before it premiered. A Rolling Stone exposé alleged that the series faced massive production hurdles due to sudden changes in creative direction. When it did start airing in June 2023, the over-the-top cringe-inducing sex scenes and toxic messages about abuse made it the internet's go-to punching back for weeks. Fans assumed that its sudden end after 5 episodes (when it was originally picked up for 6) was a clear indication of the future. Plus, a report had gone viral claiming the show had already been canceled after just two episodes had aired. At the time, HBO denied that rumor, stating that a renewal decision hadn't been made yet, but now the network has officially confirmed The Idol will not have a Season 2.
Apparently, The Idol's creators and producers — which include star The Weeknd and Euphoria showrunner Sam Levinson — were part of the decision to not continue with the series. "After much thought and consideration, HBO, as well as the creators and producers have decided not to move forward with a second season," a spokesperson for HBO told Variety. "We're grateful to the creators, cast, and crew for their incredible work."
A path forward for the series did seem unlikely after its Season 1 finale, which now serves as its series finale. The last moments of the show flipped its supposed power structure, with the seemingly victimized Jocelyn gaining complete control over the disgraced producer Tedros by declaring him the love of her life on stage at her concert. It seemed to be the twist the series had been leading up to all along, and with that dynamic resolved, another season might not have seemed necessary to The Idol's creative team.