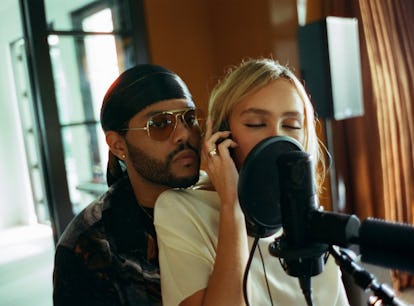 Yes, The Weeknd Knows *That* Idol Sex Scene Is Nightmare Fuel
"The sex, it's so gluttonous."
HBO
The Idol knows how to make viewers uncomfortable. The HBO series (helmed by Abel "The Weeknd" Tesfaye) isn't afraid to sink their teeth in shock-value sleaze, and that unabashedness leaves room for criticism. Recently, the backlash hit a fever pitch after *that* sex scene in the series' second episode. The graphic moment, which acted more as stomach-churning ASMR than five-star steamy sex, caused quite a stir on social media and received the notorious label as "the worst sex scene in history" by British GQ. However, according to The Weeknd, that scene was supposed to be unappealing.
On June 13, The Weeknd spoke about the viral scene with GQ. "No. There's nothing sexy about it," he said, adding the series takes inspiration from director Paul Verhoeven. Verhoeven is a champion in the erotic thriller genre, mainly because he understands how to blend vulgarity with satire. That mix appears in 1992's Basic Instinct, a film The Idol references in its first episode.
The Weeknd continued, stating the scene was created to ignite emotion from viewers. It's safe to say it certainly did. "However you're feeling watching that scene, whether it's discomfort, or you feel gross, or you feel embarrassed for the characters. It's all those emotions adding up to: [Tedros] is in way over his head, this situation is one where he is not supposed to be here."
The scene, which appeared in the last 10 minutes of the episode, sees Tedros instructing his pop star "partner" Jocelyn (played by Lily-Rose Depp) to touch herself. He then lays out his darkest fantasies with some dirty talk, his explicit words flat in delivery and completely cringy. Watchers were stunned at his awkwardly long dialogue, and even questioned how Jocelyn found it attractive. The latter seems to be a go-to thought to have while watching The Idol, as viewers find it hard to believe that someone would fall for Tedros and his creepy antics. That realization is also intentional.
"The sex, it's so gluttonous. Especially in Episode 2. 'Gluttony' is the only word I can think of [to describe it]," The Weeknd said. "[Tedros] can't believe he's there. He comes off like such a loser. Those moments are the humanity that you find in a psychopath, the chink in his armor."
That wasn't the only time the singer-actor read his character for filth in the interview. When addressing Tedros' look, The Weeknd stated the nightclub owner (whose also a full-time cult leader and...vampire?) is supposed to be a "douchebag." With his character having no redeemable qualities, seeing him slickly roast Tedros might be soothing for those who've watched the show.
"He's despicable, a psychopath — why sugar coat it? There's nothing really mysterious or hypnotizing about him. And we did that on purpose with his look, his outfits, his hair — the guy's a douchebag," he said, nodding towards Tedros' incredibly stiff rattail. "You can tell he cares so much about what he looks like, and he thinks he looks good. But then you see these weird moments of him alone — he rehearses, he's calculated. And he needs to do that, or he has nothing, he's pathetic."
The HBO series flirts with controversy like no other show has in recent years. And though its creative direction inspires weekly backlash, The Weeknd's enjoying the discourse. "I'm loving it. It's definitely shaken up the culture for sure. We knew we were making something dark and controversial but true to what we want to say," he said. "I just think discussion is healthy, no matter what. I'm just happy that there's conversation."