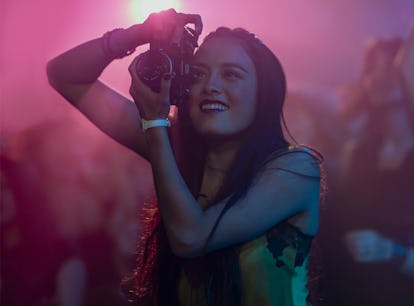 The City On Fire TV Show Made 1 Massive Change From The Book & It's Paying Off
It's the same story through an entirely new lens.
Apple TV+
The new City on Fire TV series is a mostly faithful adaptation of Garth Risk Hallberg's 2015 novel. The central mystery surrounding the murder of a young woman in Central Park remains the same, as does its chaotic cast of characters, which range from anarchist punk rockers who give "incendiary" a whole new meaning to anxious billionaires with more than just champagne problems. However, the show makes a huge change that affects literally every single scene. Totally changing the era the story takes place in was a big swing, but City on Fire actually got it to pay off — and there are a few reasons why it works so well.
A big part of City on Fire's success as a novel was how much it fed readers' hunger for '70s nostalgia. The book, set in 1976 and 1977, dove deep into the '70s punk scene, painting elaborate pictures of throwback fashion and music with each page. So naturally, when Apple TV+ announced a TV adaptation, fans assumed the '70s aesthetic must have been a big selling point. But surprisingly, the show gave the decade a cold shoulder, and instead set the story in the early 2000s. Cassette tapes are replaced by CDs, cell phones are now a thing, and the vintage punk rock of The Ramones and Blondie is updated to Y2K alt-rockers like The White Stripes and Yeah Yeah Yeahs.
Since the '70s aesthetic was such a big part of the book, it's pretty shocking how well the new 2003 works for the same story. Now that characters have cell phones, each storyline can easily become more interconnected and twisty, and for a new generation of viewers, the nostalgia for the early 2000s is even stronger than the pull of the '70s.
The time change also highlights the undying power of punk. Most people probably associate punk rock with the '70s, but as the new City on Fire adaptation proves, it's still alive and well in New York City decades later. Zines are still cool, leather jackets never go out of style, and rock music will always flip the finger to authority.
But the real secret sauce that makes the 2003 setting sing is behind the camera. Creators Josh Schwartz and Stephanie Savage are undisputed masters of the 2000s, having created two of the most iconic teen shows of the time: The O.C. and Gossip Girl. By updating the book's era, the co-creators brought the story into their stomping ground, and it's a perfect fit.
New episodes of City on Fire drop Fridays on Apple TV+.