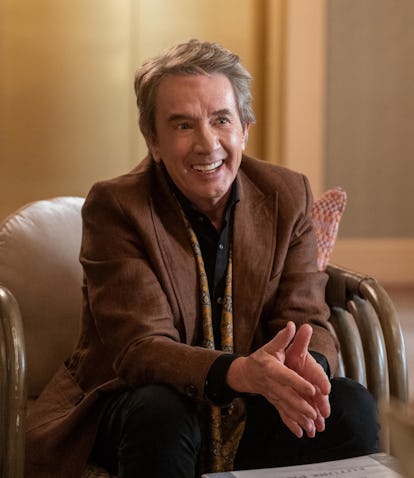 This Tiny Detail May Be Key To Solving Only Murders In The Building Season 2
It's a mystery within a mystery.
Hulu
Only Murders In The Building (the podcast) might be the rare true-crime podcast that gets a second season. However, Only Murders In The Building (the series) is the perfect streaming series to get a second round. Much like in Season 1, Season 2 dedicates a full installment to humanizing the victim with Episode 3, "The Last Day of Bunny Folger." And Bunny's lunch date in the episode could be key to solving Only Murders In The Building's latest mystery.
Warning: Spoilers for Only Murders In The Building Season 2, Episode 3 follow. Despite the series introducing a new round of suspects for the new season in the premiere, Episode 3 reminds fans Bunny's life had always been about the Arconia. She spent every day there, and all her usual haunts were just down the block from it. Her regular diner, for example, has been her lunch routine for so long that she feels comfortable giving her usual server, Ivan, thousands of dollars as her retirement gift to him after his years of waiting on her.
But that also means that Bunny's routine is easy to overlook, like when Ivan asked if the same friend who joined her for lunch yesterday would be back today. Bunny seemed startled, not that he was asking, but that he mistook the person she was with for a friend.
So who was it? Selena Gomez, Steve Martin, and Martin Short all confirmed to Entertainment Weekly that nothing should be taken for granted this season; everyone should be a suspect. So, let's run down the people Bunny might eat lunch with who she doesn't consider a friend, and what that might mean about her murder.
Only Murders In the Building Season 2 continues with new episodes streaming every Tuesday on Hulu.