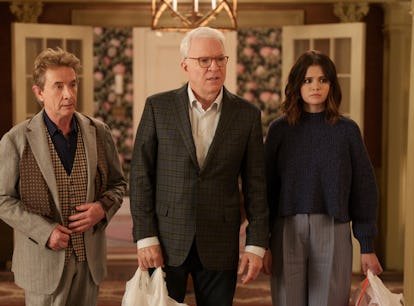 Here Are All The Only Murders In The Building Season 2 Suspects
At least, based on the first two episodes.
Craig Blankenhorn/Hulu
Warning: Spoilers for Only Murders In The Building Season 2, Episodes 1 and 2 follow. Half the fun of murder mysteries is following along and theorizing whodunit. For Hulu's Only Murders In The Building, the podcast within a show has characters theorizing about who the suspects should be while the viewer judges how right (or, in most cases, wrong) they are. For Only Murders In The Building Season 2, there is a mix of old and new suspects, all of whom have motives.
Here's a rundown of what fans know about the case:
The victim is Bunny Folger, Arconia board president and enemy of the OMITB podcast. Her body was staged to look like Mabel did it, perhaps with Oliver and Charles helping. She was dressed in an Only Murders fan hoodie, and her body was found in Mabel's apartment on the 12th floor. (Bunny's apartment is also on 12.) At first glance, the body looked like someone stabbed it with a knitting needle multiple times, but further examination indicates the deadly wounds were made by a knife; the needle ones were just for decoration.
Bunny's last words were "14" and "Savage." That might sound like she's accusing Charles (who lives on the 14th floor and has the last name Savage), but "Savage" could also refer to Charles' father. A painting featuring the elder Savage by artist Rose Cooper disappeared from Bunny's apartment and wound up in Charles'. Rose was one of the elder Savage's lovers, as was Bunny's mother (and rightful owner of the painting), Leonora. Charles' father was at Rose's apartment when her body was discovered decades ago, but the case was never solved.
Phew! And with that information, here's who could be to blame for Bunny's passing (at least for now), from least to most suspicious.
Only Murders In The Building Season 2 continues with new episodes weekly streaming every Tuesday on Hulu.