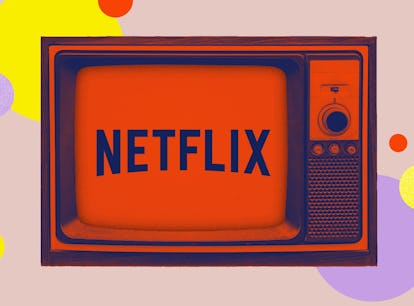 The Netflix Fandoms Are Going To *Thrive* This February
You, Outer Banks, and Freeridge are just the tip of the entertaining iceberg.
SORAPONG CHAIPANYA EYEEM GETTY
February is the month of love, with Valentine's Day smack in the middle. Netflix always honors the day with romantic films streaming that weekend, but this year, it seems like February is one long love letter to viewers, as there are tons of new and returning titles that will be better than flowers and chocolate to its fan bases. Let's look at what's coming to Netflix in February 2023.
The month kicks off with a chocolate-soaked doozy as Netflix tests the fandom waters around GBBO with Season 6 of The Great British Baking Show: The Professionals. But that's just the beginning. On My Block fans will have the first season of spinoff Freeridge to luxuriate in, the anti-romantics will have the first half of You Season 4 to sweeten their moods, and there's more fun for Outer Banks fans with a Season 3 to feast on. For reality fans, there's more Too Hot to Handle with the German edition, plus Love is Blind: After the Altar Season 3, and the brand-new romance mash-up competition Perfect Match.
As for romantic movies, In Love All Over Again, Squared Love All Over Again, Your Place or Mine, Love to Hate You, and 10 Days of a Good Man are among the slew of rom-coms arriving the weekend of Valentine's Day.
But wait, there's more:
Wednesday, Feb. 1
The Great British Baking Show: The Professionals: Season 6 (Netflix Series)
Gunther's Millions (Netflix Documentary)
Bad Boys & Bad Boys II
Call Me by Your Name
Daddy's Little Girls
Eat Pray Love
Enough
It: Part 1
Julie & Julia
La La Land
The Lord of the Rings Trilogy
New Amsterdam: Seasons 3 & 4
The Pursuit of Happyness
Spanglish
Spy Kids: All the Time in the World
Stepmom
Survivor: Season 32
Tyler Perry's I Can Do Bad All by Myself
Underworld
Thursday, Feb. 2
Freeridge (Netflix Series)
Friday, Feb. 3
Class (Netflix Series)
Infiesto (Netflix Film)
Stromboli (Netflix Film)
True Spirit (Netflix Film)
Viking Wolf (Netflix Film)
Thomas & Friends: All Engines Go: Season 2
Saturday, Feb. 4
Monday, Feb. 6
VINLAND SAGA: Season 2 (Netflix Weekly Series)
Wednesday, Feb. 8
Bill Russell: Legend (Netflix Documentary)
The Exchange (Netflix Series)
MTV Floribama Shore: Season 1
Thursday, Feb. 9
Dear David (Netflix Film)
My Dad the Bounty Hunter (Netflix Family)
You: Season 4: Part 1 (Netflix Series)
Friday, Feb. 10
10 Days of a Good Man (Netflix Film)
Love is Blind: After the Altar Season 3 (Netflix Series)
Love to Hate You (Netflix Series)
Your Place or Mine (Netflix Film)
Monday, Feb. 13
Squared Love All Over Again (Netflix Film)
Valentine's Day, Feb. 14
All the Places (Netflix Film)
A Sunday Affair (Netflix Film)
In Love All Over Again (Netflix Series)
Jim Jefferies: High n' Dry (Netflix Comedy)
Perfect Match (Netflix Weekly Series)
Re/Member (Netflix Film)
Pasión de Gavilanes: Seasons 1-2
Wednesday, Feb. 15
#NoFilter (Netflix Series)
African Queens: Njinga (Netflix Documentary)
Eva Lasting (Netflix Series)
Full Swing (Netflix Documentary)
The Law According to Lidia Poët (Netflix Series)
Red Rose (Netflix Series)
CoComelon: Season 7
Thursday, Feb. 16
The Upshaws: Part 3 (Netflix Series)
47 Meters Down: Uncaged
Ouija
Friday, Feb. 17
A Girl and an Astronaut (Netflix Series)
Community Squad (Netflix Series)
Ganglands: Season 2 (Netflix Series)
Unlocked (Netflix Series)
Sunday, Feb. 19
Whindersson Nunes: Preaching to the Choir (Netflix Comedy)
Monday, Feb. 20
Wednesday, Feb. 22
Murdaugh Murders: A Southern Scandal (Netflix Documentary)
The Strays (Netflix Film)
Triptych (Netflix Series)
Thursday, Feb. 23
Call Me Chihiro (Netflix Film)
Outer Banks: Season 3 (Netflix Series)
Friday, Feb. 24
Formula 1: Drive to Survive: Season 5 (Netflix Documentary)
Oddballs: Season 2 (Netflix Family)
Pokémon Ultimate Journeys: The Series: Part 2 (Netflix Family)
We Have a Ghost (Netflix Film)
Who Were We Running From? (Netflix Series)
Married at First Sight: Season 12
The Real World: Season 12
Tuesday, Feb. 28
A Whole Lifetime with Jamie Demetriou (Netflix Comedy)
Too Hot to Handle: Germany (Netflix Series)
American Pickers: Season 15