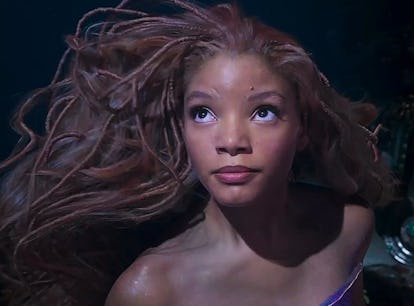 You Can Stream Little Mermaid & Elemental On Disney+ This Month
Plus, there's a super-cheap subscription deal if you subscribe this month.
Disney
If you've been thinking about getting Disney+, this is definitely the month to do it. Not only is the streamer's September 2023 lineup stacked with some of the year's biggest movies and TV shows, but there's also a special promotion going on this month only that reduced the price of a standard subscription by a whopping 75%. That's right — you can stream The Little Mermaid, Elemental, Ahsoka, and more for just $2 per month if you sign up for Disney+ in September.
By signing up for a basic Disney+ plan on its site between Sept. 6 and Sept. 20, you can get three months of Disney+ at just $1.99 each. That's a $6 price drop from the basic plan's usual cost of $7.99/month. The deal only applies if you purchase your subscription before Sept. 21, so be sure to claim your discounted three months on the Disney+ website.
Along with the special offer, Disney+ is also making September count by dropping some super buzzy movies that you might have missed in theaters. Now's your chance to finally stream the live-action Little Mermaid, as well Pixar's latest feature film Elemental. And of course, there's plenty for Star Wars fans to geek out about as the new series Ahsoka continues to drop. Check out the full slate of Disney+ premieres this month below:
Sept. 5
Star Wars: Ahsoka (Episode 4)
Retro Mickey Mouse cartoons:
All Wet (1927)
Trolley Troubles (1927)
Sept. 6
The Little Mermaid
I Am Groot (Season 2)
9/11: One Day in America (6 episodes)
The Three Detectives
Doc McStuffins: The Doc & Bella Are In!
Sept. 8
2000s Greatest Tragedies (National Geographic special)
Bin Laden's Hard Drive (National Geographic special)
George W. Bush: The 9-11 Interview (National Geographic special)
Retro Mickey Mouse cartoons:
Bone Trouble (1940)
Merbabies (1938)
Mickey's Kangaroo (1935)
Playful Pluto (1934)
Pluto, Junior (1942)
The Barn Dance (1929)
Sept. 12
Star Wars: Ahsoka (Episode 5)
Sept. 13
Elemental
Good Chemistry: The Story of Elemental
Carl's Date: Dug Days
The Other Black Girl
Animals Up Close with Bertie Gregory
Marvel Studios' Assembled: The Making of the Guardians of the Galaxy Vol. 3
Miraculous: Tales of Ladybug & Cat Noir (Season 5, 7 episodes)
Raven's Home (Season 6, 4 episodes)
Marvel's Spidey and His Amazing Friends (Season 2, 7 episodes)
Sept. 15
Lang Lang Plays Disney
Master & Apprentice: A Special Look at Ahsoka
Sept. 19
Star Wars: Ahsoka (Episode 6)
Sept. 20
Marvel Studios' Assembled: The Making of Secret Invasion
The Ghost and Molly McGhee (Season 2, 4 episodes)
L-Pop
PJ Masks: Power Heroes (5 episodes)
Sept. 26
Star Wars: Ahsoka (Episode 7)
Sept. 27
To Catch a Smuggler (Season 5, 8 episodes)
Pupstruction (6 episodes)
All the Same... Or Not (Season 2)
Zombies: The Re-Animated Series (Season 1)
Sept. 29
Marvel Studios Legends
Disney's Launchpad (Season 2)
Don't have Disney+ yet? You can sign up here.