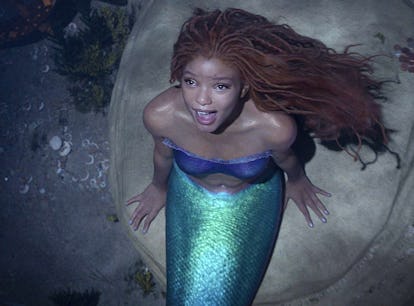 The Original Ariel Had A Cameo In The New Little Mermaid & It's A Perf Easter Egg
Disney
Disney's new live-action Little Mermaid is a fresh take on a beloved story, and while there are a ton of shiny new scenes and songs to marvel at, it doesn't wash away what made the 1989 cartoon a classic. On the contrary, the new adaptation actually paid its respects to the original Ariel in a super clever way, even if a lot of moviegoers may not have realized it. Here's why Jodi Benson's cameo in The Little Mermaid was the perfect Easter egg.
In the 2023 adaptation, Halle Bailey brings the flowing red locks and iridescent mermaid tail to life nearly a quarter of a century after Ariel was first introduced in the animated film. That movie starred actor and singer Jodi Benson in the lead role. It's Benson's voice that made songs like "Part of Your World" so iconic, and although Bailey put her own equally incredible spin on Ariel in the new movie, there's still a touch of Benson's magic in the remake.
Benson appears as a market vendor in a shop that Ariel stumbles into shortly after trading her voice for legs. In a hilarious nod to a memorable animated Ariel moment, Benson's character hands Ariel a fork for her food, which Ariel immediately uses to comb her hair. Yes, it was Benson literally passing the dinglehopper from one Ariel to another.
Benson told Today that director Rob Marshall and producer John DeLuca had planned her cameo out from the very start. "To see it come through Rob and John's eyes of how they envisioned it, paying tribute to the original but then just expanding it, was just glorious. I was blown away," Benson said of watching the moment.
And the graciousness of passing the dinglehopper wasn't just for show. Benson has been very vocal in championing Bailey's version of Ariel, admitting she had no tips to give the new mermaid princess. "She doesn't need any advice from me!" Benson said at the premiere. "She's brilliant."