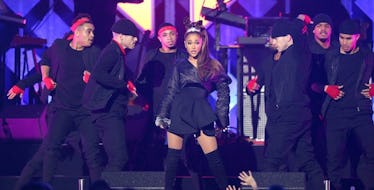 What Was The Explosion At Ariana Grande's Concert? Here's What We Know
Catrina Maxwell/Getty Images for iHeart
On Monday night, there were reports that people were evacuated from an Ariana Grande concert in Manchester, England due to a "serious incident." As more information became available, that incident was confirmed to stem from an explosion that tragically caused many fatalities, but not many additional details about the explosion itself are available at this time.
UPDATE: Manchester police revealed Tuesday morning that at least 22 people are dead and about 60 injured after a lone bomber detonated an improvised explosive device outside an Ariana Grande concert in Manchester, England. The attacker is deceased and police believe he acted alone. According to CNN, authorities are investigating whether the attacker was part of a broader terror network.
Here's how you can help victims of the attack, which is the deadliest Britain has seen since the 2005 London bombing.
Grande was not injured at the concert and tweeted after the event: "broken. from the bottom of my heart, i am so so sorry. i don't have words."
EARLIER: According to NBC News, U.S. officials said that there was one single explosion at the end of Grande's concert, as fans were leaving Manchester Arena. The Guardian reported that according to representative of the arena, the explosion itself took place around 10:30 p.m. local time "outside the venue, in a public space."
The Greater Manchester Police released the below statement on Twitter, which contains even more tragic details.
As per the statement, 19 people have been confirmed dead and about 50 people have been injured. Other concertgoers are missing, with their photos being shared on Twitter in an effort to help locate them and get them any needed medical treatment. Grande's representatives confirmed to E! News that the singer is safe. (Elite Daily reached out to Grande's representatives for further comment and has not yet received a response.)
Though not much has been released about the explosion itself, police are currently treating it as a terrorist incident. According to a tweet from NBC News, authorities suspect that it could have been caused by a suicide bomber.
Ivo Delgado, who witnessed the incident, told CNN, "It was a really big explosion. Everybody started screaming and running ... There were people on the floor ... There was a lot of confusion."
The explosion can be heard in the video below.
Esme Findlay also attended the concert and told People: 
Everyone was laughing and talking about the show before the sound ... But then, everybody began screaming immediately and pushing to get out. It was very loud because of the screaming. No one knew what it was ... but people were screaming 'bomb! bomb!' and there was a lot of panic.
Though not many specific details about the explosion are known, this was clearly a tragic, terrifying incident.