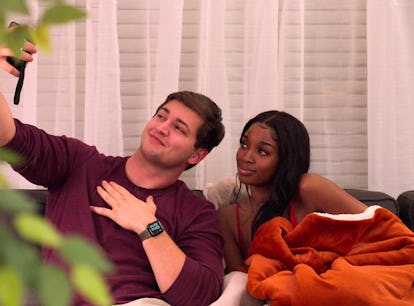 The Ultimatum's Just Doesn't Hit The Same After Queer Love
Netflix
The Ultimatum may be back for another round, but its fans have evolved since its debut. Between its first and second seasons, Netflix aired the spinoff series The Ultimatum: Queer Love, which centered on five lesbian couples going through the harrowing marriage experiment. That season delivered explosive drama and steamy hookups, along with tackling nuanced conversations about queer relationship dynamics that aren't often shown on reality television. All in all, it was as juicy as it was refreshing... which is something that fans aren't quite seeing in the new season of the mainline Ultimatum. As Season 2 has been airing, viewers have shared their disappointment that it hasn't lived up to the bar that The Ultimatum: Queer Love has set.
There's no denying that The Ultimatum Season 2 is packed with drama — from surprise pregnancy reveals to huge fights, there's was plenty of messiness to go around. But nothing in the season could really match the pure villainous smirk of Queer Love's Vanessa, or the will-they-won't-they suspense of Xander and Yoly's trial marriage. On top of that, Queer Love highlighted deep and actually meaningful conversations about distinct issues members of LGBTQ+ communities face when it comes to marriage. After all that, returning to the generic communication problems the couples on The Ultimatum Season 2 clearly aren't equipped to address, it's hard not to feel how flat it falls.
After Season 2 of The Ultimatum premiered on Aug. 23, viewers flooded social media with unfavorable comparisons to the Queer Love season.
A big part of why the comparison is so top-of-mind is how quickly Season 2 came out after Queer Love. Netflix surprised fans by dropping The Ultimatum Season 2 just three months after The Ultimatum: Queer Love had premiered on May 24. All of the major drama from the Queer Love reunion was still fresh in people's minds as the new season kicked off.
Although fans are clearly hoping for it, Netflix has not yet announced whether there will be a second season of The Ultimatum: Queer Love or not. So until then, the other version of the show is all we've got at the moment.