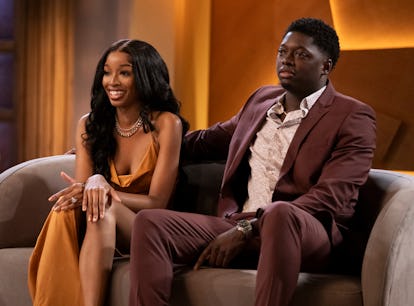 The Ultimatum's Riah & Trey Are Expecting Their First Baby
Somewhere, Vanessa Lachey is clapping.
Netflix
Congrats are in order — there's going to be another Ultimatum baby! On Sept. 2, nearly one year after filming the Netflix show and getting engaged, Season 2's Riah Nelson and Trey Brunson announced they are expecting their first baby. The couple, who is planning on a spring 2025 wedding, posted the happy update on Instagram, sharing that their baby's due date is Jan. 5, 2024.
The father-to-be celebrated the pregnancy with an IG feed post. "EVERYBODY!!! Me and @jeriahnyree are ready to welcome our baby into the world," Brunson captioned the carousel of baby clothes and a pic of him kissing Nelson. "I fell in love with our little one as soon as I found out she was pregnant ❤️❤️❤️ Gender reveal coming soon 😁."
The soon-to-be mom also sounds excited. "❤️Next Chapter: Motherhood 👶🏾🍼," Nelson wrote on her own post. "These past 5 months have been so sweet and special. From hearing your heartbeat to little flutters and kicks. We cannot wait to meet you." Later, she shared in an Instagram Q&A that she was a little over 22 weeks pregnant. According to her, she was "shocked" when she found out. "I couldn't believe it at all so I had to take another [test] to double check," she added.
Though the couple did not mention the pregnancy during the Season 2 reunion, which aired Aug. 30, they apparently already knew. When asked about it by a fan, Nelson wrote, "Yes. Did his face give it away when they asked?" She continued, "We actually didn't share the news until after it was filmed. We wanted to announced it when we felt was the right time."
ICYMI, at the reunion, the couple discussed potentially having kids together — something Nelson said she was against during their time on the show. "I think for me it was a defense mechanism," she explained to host Nick Lachey, per E!. "Me and Trey — we were pregnant two years ago and I didn't have a heartbeat. And for me to protect myself, I always said I didn't wanna have kids, I don't wanna have kids, because I didn't wanna be pregnant and go to the doctor again [and] just, like, know that I didn't have a heartbeat. That was rough." She explained that she's changed her mind since then, clarifying that she did "wanna have a kid in the future."
Following the couple's pregnancy announcement, Vanessa Lachey, the show's other host, commented on Nelson's Instagram, "Wow! Congratulations Mama. ❤️❤️❤️❤️❤️❤️❤️"